Simplified Interface, made site faster
We made a couple of changes that speed up the site, and make our dual purpose more obvious:
Search for local info & businesses
Add your business, to post your news, sales, events, and jobs
We put those two features together in the upper-right of all pages, regardless of screen size or reolution. This redesign made the content and city menus more universally accessible from the top of any screen or web page
We also moved the business tabs down above business logos/photo in the listings. This makes the mobile, tablet,  and desktop views/versions consistent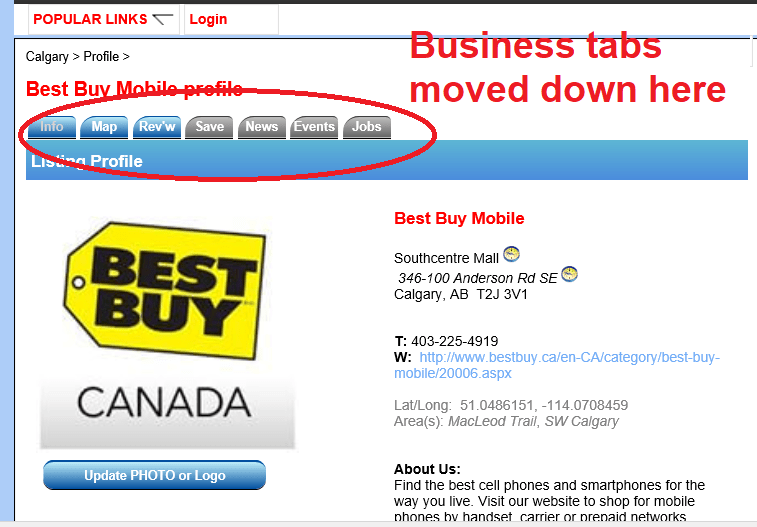 This sped up the pages, and improves page "responsiveness" for different browser and tablet sizes.
We also reduced the colour palette for the new and the featured businesses, and featured stories & links to just blue and grey (in light & dark versions), consistent with our colour scheme. This had two impacts: it (a) reduces colour clutter around the site, and also (b) improves how businesses in our directory stand out.
For the Registered Contacts of a business (or community group) we have re-organized the "Edit Business Info" action menu (formerly the "What To Do?" menu, and have it replace the POPULAR LINKS menu when/while you are logged-in. The menu options are now grouped by "Update" and "Post" (add new) functions.
To return to the POPULAR LINKS menu, just click the Logout button in the white stripe
We will continue to improve and speed up the site..
Known bugs:
1) Microsoft Edge browser displays footers/menus on business pages slightly differently than Chrome, Mozilla, and IE-11 [Resolved]
2) Context-sensitive menus,  for the white stripe, are displaying right below the white stripe on the right side. [Resolved]
3) Announcements & Out of Business notification pages has old headers & footers.  [Resolved]