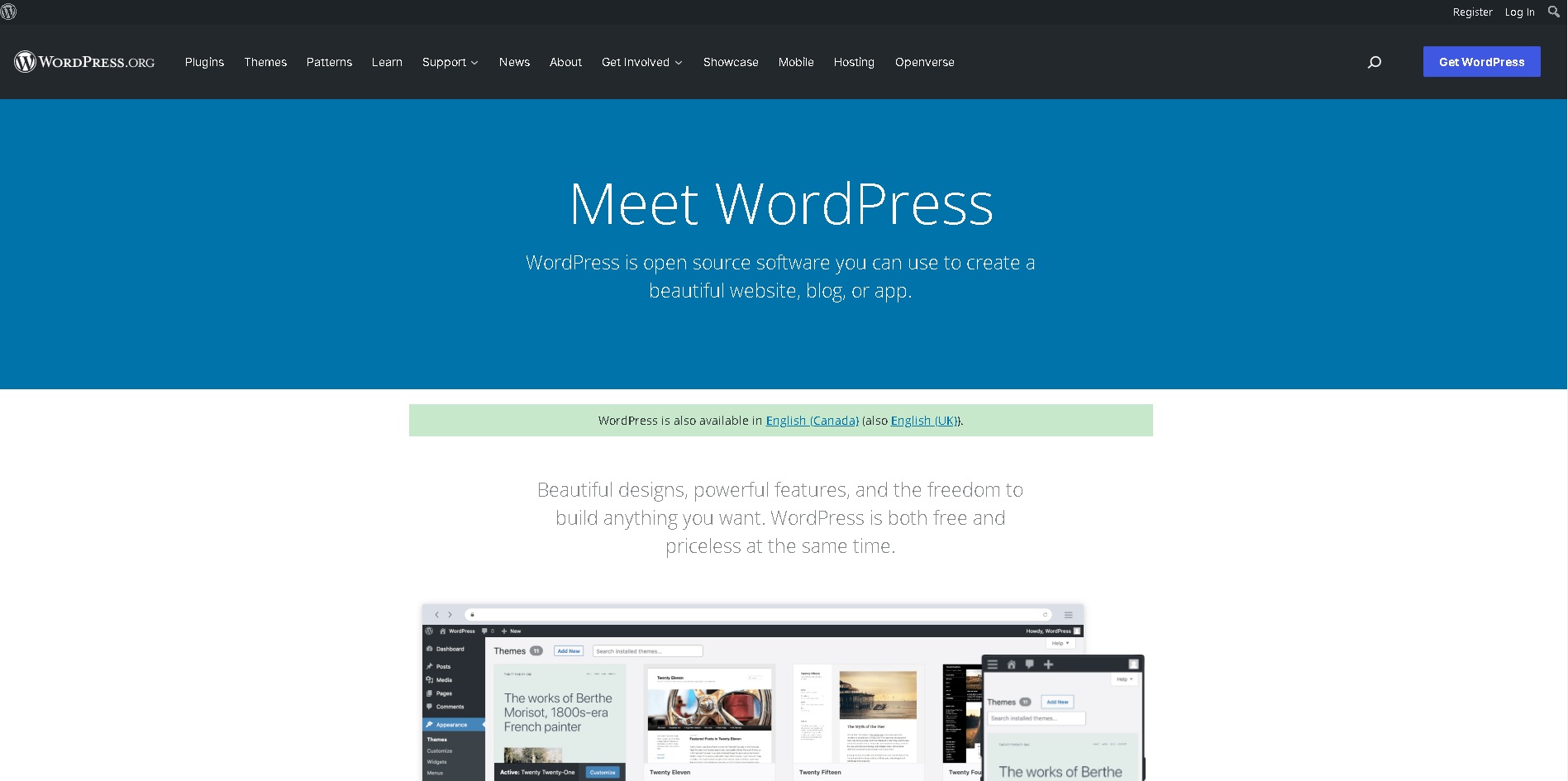 Recent Updates to WordPress
WordPress is a flexible environment for website building, once used just for blogs. Its nice becuase there are many drag & drop features, editing and updating is easy and user-friendly, and there are a GAZILLLION templates ("themes" ) and lots of "plugins" to add additional features, tools, and capabilities. And many are free, all are affordable (many with a one-time cost, though some may have an annual or monthly licence fee), and they are created and updated by OTHERS which means you can focus your efforts on your content and your business, not on the technology.
There are estimates of WordPress being used in over ONE-THIRD of the websites around the world~
Recent WordPress updates
There have been significant changes and updates to WordPress over the past years:
WordPress Version 5.0 (Dec 2018) changed the way WordPress handles content editing by default, with the new "Gutenberg" editor and content "blocks". By itself, not earth shattering, but it starts to create other opportunities for speeding up WordPress websites.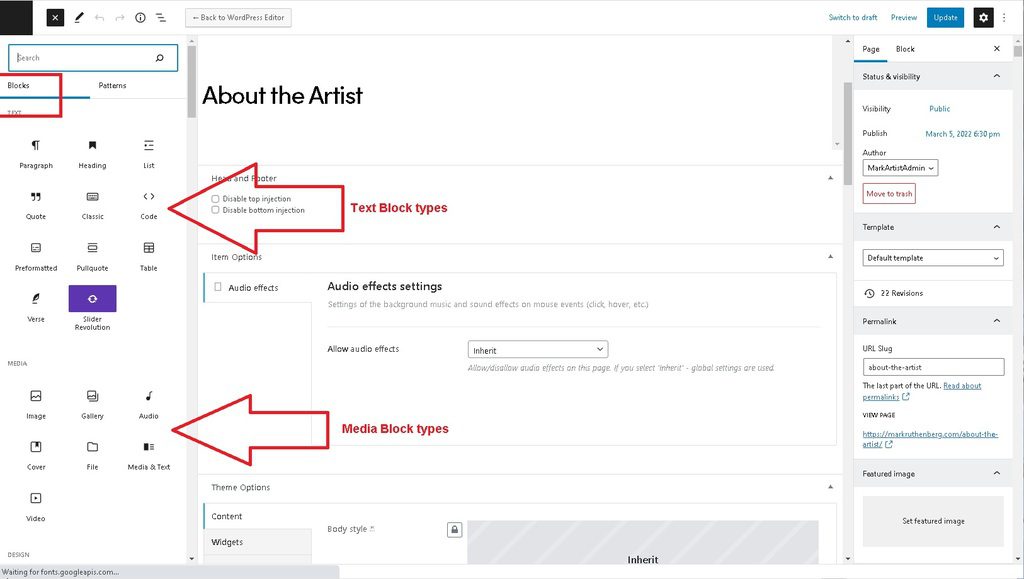 WordPress 5.1 (Feb 2019) added a new Site Health feature, which itemizes suggestions for improvements, including removing non-active Themes and Plugins since they create security vulnerabilities.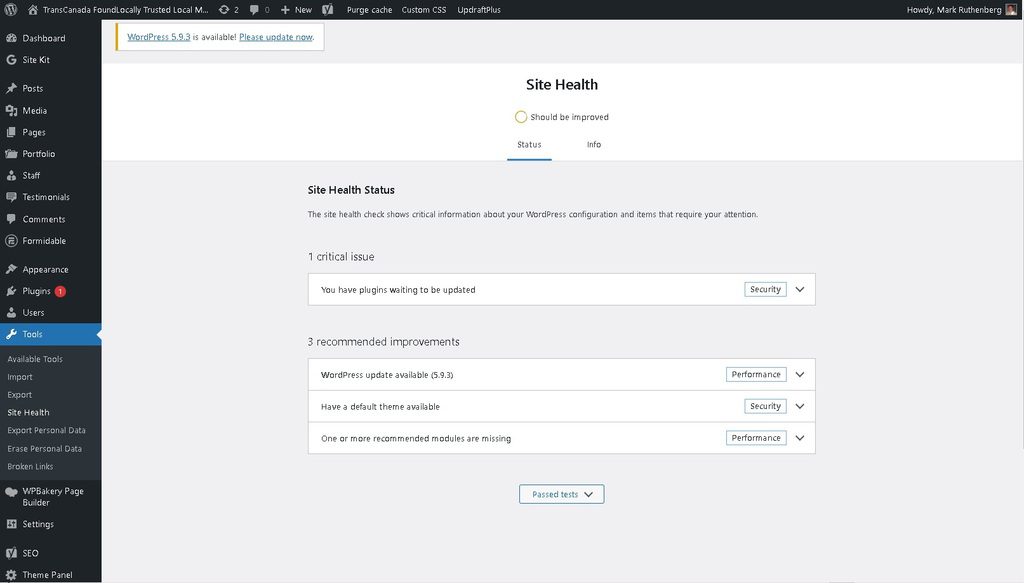 WordPress Version 5.5 (Aug 2020) began auto -updating WordPress and the many Plugins, to ensure security patches and improvements were done on a timely basis (it used to be required manually, and was the bane of unpatched web sites getting hacked, or the bane of their too-busy web masters)
There continue to be updates (we are now on Version 5.7, March 2021). One of the things I monitor is when WordPress adds features, it may obsolete a plugin we have been using, and is now redundant. By removing it we can improve site performance (fewer or smaller files to load).
One of the nice features in WordPress now is that we can disable Comments, which were once the way most people responded to WordPress blogs, but now are 99% incessant spam, promoting the writers' websites. Using multi-field complex Contact Us forms does more to dissuade bot-spam (but not always), and ensure more of your respondents actually are interested in what you are selling.
Other updates related to WordPress
Along the way the underlying database, MySQL and PHP coding have undergone major upgrades to both improve security and improve website speed (from 4.7– a year ago–to 7.3 we've seen a doubling of performance and site speed, and from 7.1 to 7.3 we've seen another 20%). This is done at the hosting level (TelusHosting for most of you).
One of the Backup Plugins I use is Updraft Plus, which does not create a single backup, but creates separate backup files for themes, settings, plugins, uploads (images and PDFs), and the database. I typically have the database backed-up weekly and the other files backed-up monthly. Your web host does their own backups as well, on a variety of schedules, ranging for daily/overnight and weekly. When things "go wrong", I work with our backups first, and go the webhost provider's backups typically only when database connections break (rare but it does happen) and needed fixing.
Our Over-Riding Principle
We are always looking for opportunities for optimization (site speed) and features that make a site more "sticky", and one of our prime directives is to apply and test on our own sites (https://marketing.FoundLocally.com and on https://TransCanadaHighway.com) before implementing any radical change on clients' websites.
Our own web sites have (a) relatively high traffic, and it allows us to measure results and impacts quantitatively, and (b) high page counts, which allows us to quickly assess the productivity of making changes on multi-page websites.
We are currently testing (1) building sites / renovating complex websites using just the Gutenberg Blocks, (2) newer image formats like WebP for site speed, which are presumably faster than JPG, (3) different ways of lazyloading images and IFRAME objects.