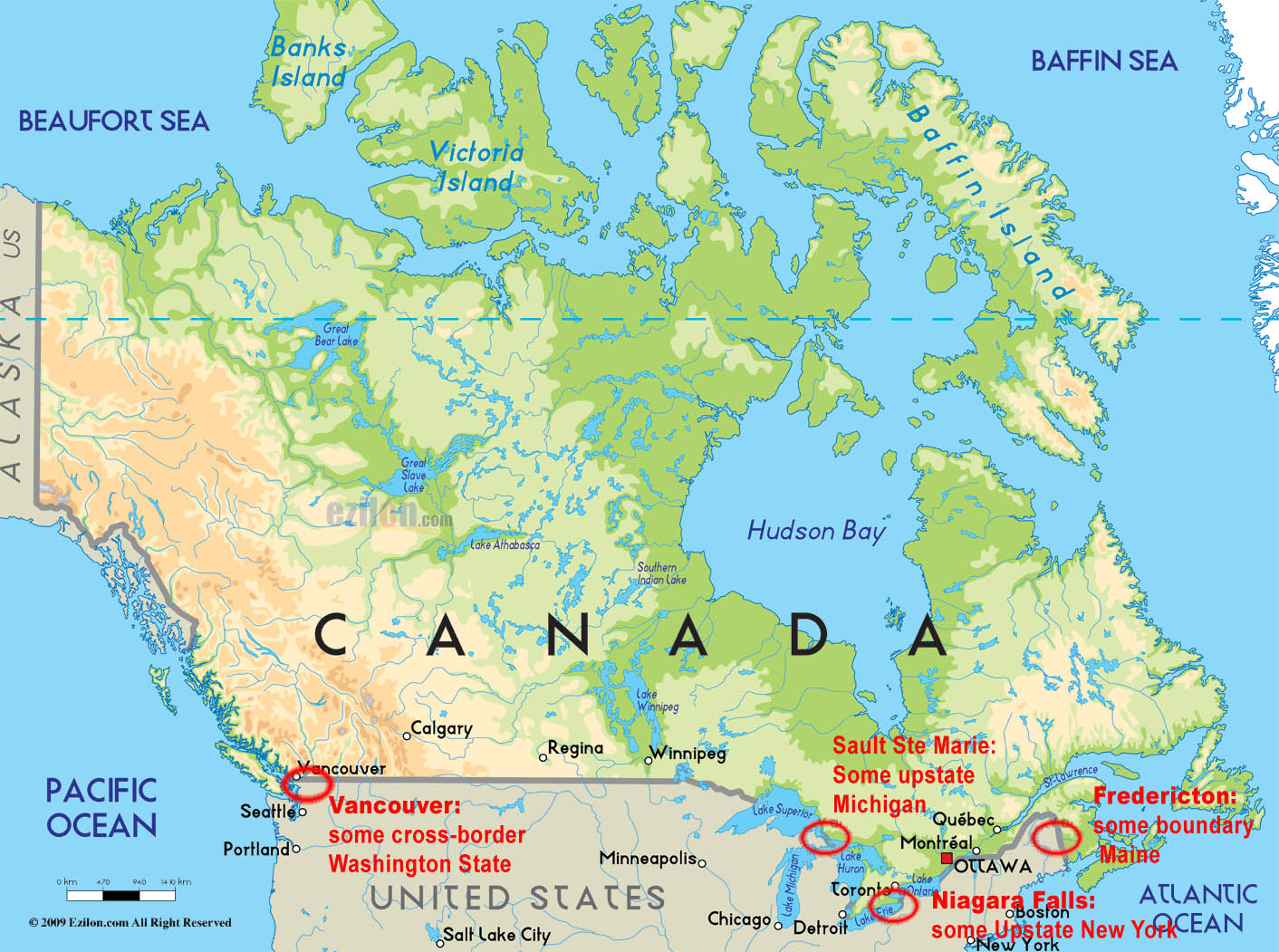 What American cities are eligible for a FoundLocally listing?
First of All, let's be CLEAR: FoundLocally.com exists to help Canadian consumers and businesses find LOCAL suppliers for goods & services.
Secondly, we are NOT funded by any government departments, agencies, municipalities, or tourism agencies, so we are not beholden to their arbitrary boundaries.
Thirdly, some are markets happen to cross boundaries… that's just the reality of history, work patterns, and travel patterns.
Fourthly, if you are outside North America, STOP NOW…. our directory won;t include you. We don't care that you have customers here (or want to), since our directory is based on your physical offices here. You need a local location and address. and a local phone number, for each FoundLocally directory you plan to add yourself to.  A Skype line and/or a  toll-free WILL NOT qualify you… even if you are located in Canada
Some US towns & businesses are welcome on FoundLocally.com:
Sault Ste Marie, MI area
Sault Ste Marie  exists on both sides of the St Mary River, 2/3 of the area population lives in Ontario, and 1/3 the area's population lives in Sault Ste Marie, Michigan. the area around the Ontario side is called "Algoma" and the area around the Michigan side incorporates part of the Upper Peninsula ("the U.P." to locals), extending down to Mackinaw on the Lower Peninsula of Michigan
Niagara Falls, NY area
Our Niagara Falls site also covers Niagara Falls, Ontario as well as Niagara Falls, New York. The area on the Ontario side is called the "Niagara Region" and extends west to just-shy of Hamilton, while the New York side is called the "Niagara Frontier" (an expression dating back to the War of 1812, when the area was a few settlers, out numbered by Indians), and extends south to include Buffalo, the area's largest city. other area town include Youngstow, Lockport, Tonawanda,  Williamsville, Cheektowaga, East Aurora, Hamburg, and Bavia..
The three largest market dynamics are that
tourists typically visit both sides of the border
some things are cheaper on one side or the other (depending on exchange rates), and
the drinking age is lower in Ontario (19 years) than in the United States (21 years), so American young adults head to Canada for weekend partying, while Canadian mid-20s and up head to the US side to avoid the really young partiers!
Blaine, WA area
We have seen similar dynamic in two other markets: our Vancouver site has some businesses just the other side from White Rock and Chilliwack, where people buy gas and his Bog Box stores that do not (yet) have Canadian operations, while Americans head north for drinking from age 19. Washington state town just south of the border include Blaine, Lynden, and Sumas. And of course, there's Point Roberts, WA which is isolated on a spit of land south of Tswawwassen, just south of the 49th Parallel.
EasternMaine
In our Fredericton directory, some towns in Maine just across the St John River can also add themselves to that directory. Such towns include Madawaska, Van Buren, Limestone,  Fort Fairfield, Blaine, Houlton (on the Interstate from Woodstock), and Princeton