Using FoundLocally for SEO Best Practices
i s your site following S.E.O. Best Practices? SEO and web marketing is best done organically, unless your business LIKES SPENDING money it shouldn't have to. Our last newsletter/post was SEO checklist after doing a web site redesign and now we will cover using your FoundLocally.com listing to get the most "bang" (for no outlay).
We've been helping consumers and business find stores, services, and suppliers in their own community since we started, back in 1999. ALL WE DO is local search, local marketing, local, SEO, and local directories. We like to share what we've learned—in our own web marketing—with the almost 200,000 businesses in our local directories.
Your FoundLocally Listing(s)
You can add your listing to our directory by clicking on the Free Listing button at the upper-right in any of our community content pages. Only local businesses are allowed, so if you must have a physical location and a local phone number in that community! We check the address, phone number and postal code for localness. Businesses with a 1-800 toll-free number as part of its brand, MUST include a local number as the primary phone number for each location.
If you're in our directory, use the Login button to edit your listing (if you've created it before), or the Claim Listing button if it's in the directory and it wasn't you, or if you can't remember. This button lets you create a userID and password to be able to edit that listing. The "claims" are human-reviewed for suitability. Approval is very quick if your e-mail address uses that listing's web address/domain (we can assume you're not a competitor or a disgruntled consumer hijacking a listing)
If you are a chain, you can find all locations across all FoundLocally directories using http://Foundlocally.com/StoreSearch and entering a company name, brand (or just a partial). Use this to quickly checkout competitors. You can export this list to Excel spreadsheet to compare against your actual location list, and let us know which ones to add or remove. See http://Marketing.FoundLocally.com/chains
Be Keyword Rich
Because your directory listing is for your business, we EXPECT your business name (not "best Toronto plumber"). You can uses words and phrases people search for in your About You, Products/Brands and Environmental fields. Write your About You like an "elevator pitch" in conversational English (or French if that's your audience), since that is shown in the directory listings. Use the Products/Brands field for a comma-separated "laundry list" of the many things you do or sell, and use the Environmental field to itemize the things you do that are better for the planet (don't try "green-washing" faking it) or you'll invite negative reviews on your overstatements.
If the Category fields do not include a product or service, use the Other text box in the appropriate section to suggest a new field to be added, to help consumers find you (and your competitors). This helps you be even more find-able for new market segments. We review these twice a year, compare them against consumer searches to identify new opportunities. We've added almost a thousand new categories in the past decade!
Increasing Link-Backs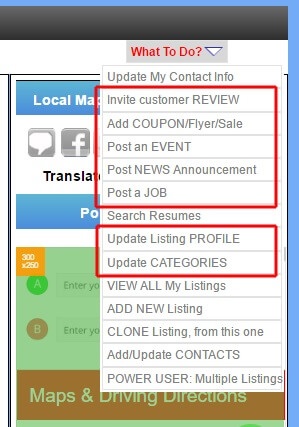 The most popular options are in the red What To Do? menu, when you are logged into your listing. Access common features with a single mouse-click. Features that make your FOOTPRINT on FoundLocally.com bigger, and increase the number of links back to your site (SEO folks just call these "link-backs"), thereby enhancing your find-ability (on our site) and your SEO (on search engines).
Use our site features to TEASE consumers to link to (and actually visit) content on your site. That's why Events only allow 250 characters to describe the event. That's why Flyers/ coupons only give you 250 to describe the offer overview. They should link to full details, and any online ordering/shopping on YOUR SITE. Other sites charge extra for these features… we charge you nothing. In any case, the visitor can go to your FoundLocally.com business listing and see where than can shop/buy/call in person.
Even features that allow more in-depth descriptions, like Jobs (Volunteer Opportunities) and News Announcements (1400 and 2000 characters, respectively) let you link back to site content for more in-depth information. Jobs posting cost most business a lot of money, and require a lot of sucking up to get New Announcements posted/published in traditional media (either trying to force you to buy an ad, or meddling with a lot of editorial filtering).
Our Jobs postings stay up for 6 months or until you take them down, and can re-activate them any time later, and without additional cost (heck, you've entered al the info, why pay AGAIN?) Our News items are up for 99 years unless you set a specific expiry (say, to promote ticket sales for a specific annual event)
Write your posts so they are keyword rich, and write them for PEOPLE, not just for search engines (those look "spammy" and cheapen your brand). Write conversationally. Use the right fields for the right information (don't put URLS where they are not expected/wanted). And, use available Category and Area options to make your business more find-able.
In any case, LINK to your Call To Action page, the resume submission form, event ticket purchase, Flyer page on your website… (on your site, or third-party's) But, if your website does not have these things, then you probably need to update your website (ask your designer, or use our directory to find a local one)… They'll be HAPPY TO HELP YOU!
Summary
Following these tips will not only make your business be more visible and findable on FoundLocally.com, but will increase the links to your site and improve your ranking on other global search engines like Google, Bing, and Yahoo.
Recent Enhancements
Here are a number of recent updates to help the 200,000 businesses in our directory:
We have made city-specific searches and free listings easier from our Canada FoundLocally.com home page.
Our search results and section home pages (everything in the Table of Contents) all more graphic, with photos/logos (if you still have the "Click Here" blue placeholder logo, upload a better image NOW!)
Use our Directory for YOUR Searches
We are an excellent source of local suppliers and resources… we are always surprised with business add themselves to our directory, and yet don't come back to explore our directory, our local info editorials
We have a thousand pages of editorial on things like Movie Listings, Ski Reports, Farmers Markets, Craft Breweries, Festivals, Nearby Tourist Attractions, Schools, School Holidays, Kids Things To Do, Neighbourhood Descriptions, Elected Politicians Contact Info. Please share the info you particularly like and find useful with your friends, family, clients, and business associates (using the handy Share buttons on the left/bottom of your screens)