There are  three businesses we're focusing on in this post:
Realtors
Home & Condo builders
The support professionals
Just so everybody knows, your listings on FoundLocally.com are automatically included in our MovingInCanada.com real estate & relocation  focused website. You get TWO CITATIONS for a single submission process!
Realtors
Every realtor can add themselves to the FoundLocally.com directory (and 2,500 have already done so), and once added, you can post new listings as News, and open houses you are holding (and supervising) as Events.. Just use the red What To Do? menu any time after you have created your listing.
When you add your listing, enter YOUR NAME in the listing and your domain name afterwards in brackets. Also include to office you are working with in the Name2 field (so either name search will find you!), and include the office address and the office name in the two Address fields  (the same holds true for address searches!)
SEO TIP #1: We highly recommend you upload a personal photo from your or your office website  for your listing Image. This personalizes the listing, and  helps sell the "brand of YOU".. Realtors typically pay rent to the office, and are not paid to market it for the broker-owner.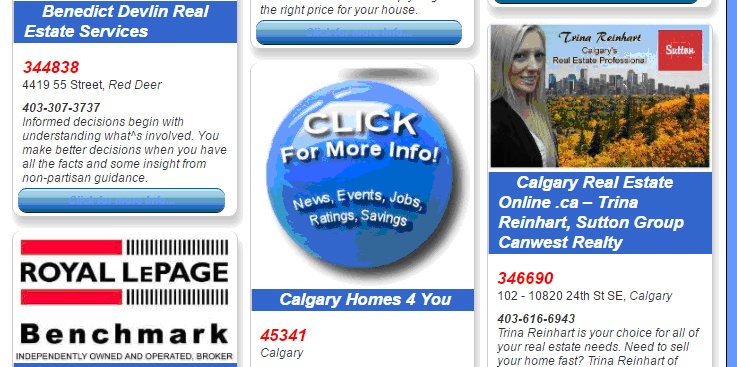 SEO TIP #2: Use the About Us description field to state your unique selling proposition (what makes you special)… Don't use generic (or generic sounding) "motherhood" stuff if you want to stand out.
SEO TIP #3: Use the Products/Brands field to put a comma-separated laundry list of neighbourhoods you farm, or housing types you focus on.
Use the Templates
If you are the broker-owner of a real estate office, add your listing and use an office logo as your image. You can also add your various realtors by "cloning" your listing, This will help your findability, and your realtors! But let them "claim their listing" so they can modify and update it further to their own needs. We can help you set this up!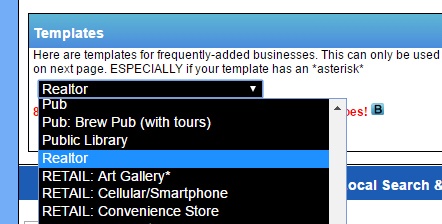 Home & Condo Builders
Some home builders are custom builders, working on one house at a time, while others build dozens (if not hundreds) at a time in hew neighbourhoods or subdivisions.
Home builders and condo builders are welcome to add themselves to FoundLocally's directory (and over 300 already have).
SEO TIP #1: Smaller builders should use a showcase photo of a signature home style for their image… that will stand out more than a corporate logo. (Over the years, we've seen a strong impact in our hotels, and golf course listings, where logos just don't work against good photos!).
SEO TIP#2: Larger builders may use a corporate logo for head office, and  developer/community logo for each neighbhourhood's showhome, or a nice neighbourhood photo. Yes, you heard that right! A larger builder can have one listing for their head office and a listing for each of their showhomes/sales offices.
Each of these will provide an appropriate deep link in your website, to quickly navigate buyers to the houses or communities they are looking for! Put the phone number and hours for that office (those office/business hours do not fit the requirements of an "Open House" event.)
 SEO TIP #3: If you have a special event, like a radio station "live remote," post that to the Events, and post News Announcements about new builders, new areas opened up, etc.  And take advantage of the Jobs postings, that are also free on FoundLocally! These increase your listing "footprint" on FoundLocally and the number of deep links back to your website.
 Other Real Estate Professionals
These professionals include folks like home inspectors & appraisers, mortgage lenders, and movers. Over 2,000 have already added themselves to FoundLocally's directory. Many of these businesses operate in multiple locations, even in multiple cities, but use a single website. When adding a business, be sure to use the Templates to pre-select the most common categories for you and your business.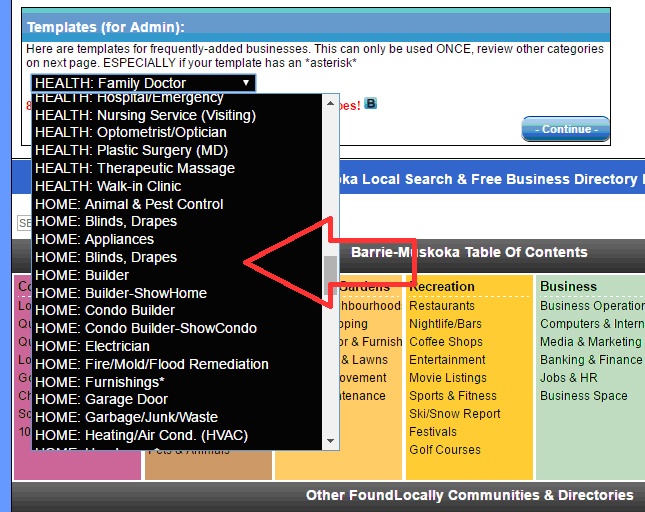 SEO TIP #1: list each office separately, and link to an appropriate page (for the consumer purchase decision) on your website. That is most often not the office address page (they have that on the FoundLocally directory, already)
SEO TIP #2: Mortgage lenders typically work  in an office under a corporate brand, but are responsible for their own leads and  their own business… so like realtors, use your photo—and not a corporate logo—as your image, but by all means include the office name in your listing name, as in "June Smith with Mortgage Professionals" or put your name in the Name field and the office name in the Name2 and Address2 fields.
SEO TIP #3: Post news about changing market conditions to the News/Announcements part of your listing. Our news is unfiltered, and there's no "sucking up" to reporters or editors to get your story published. It goes live immediately (with an active listing) and is a keyword rich document that will draw search engines to your website  (include a deep link with the news item).
Cloning to Other Cities
If you are cloning an existing listing to create a listing that should be in a different FoundLocally city, use the Clone  and "Or to another City" pop-up list
If you are unsure which FoundLocally community is best for a listing, CALL US… we'll be happy to help out.
If you have more than ten listings to add,see our Tips for Chains and Franchises, which has an Excel template you can use as a guide. Create  JUST ONE LISTING (with complete description, categories, and image),  and email us the Excel spreadsheet, and we'll clone the rest for you, using the spreadsheet data.