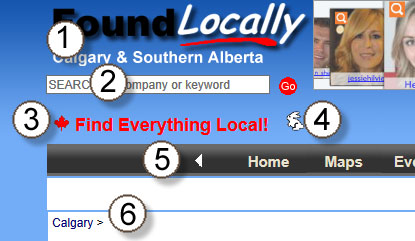 One-click Navigation Aids on FoundLocally
FoundLocally is a site designed for both "newbies" and for power users, as a great resource for local information and search.
To facilitate easy access, we have built in a number of features to simplify navigation around the site. These features includeHome-click, Site Search, Home-Home click, Jump to nearby, Back-one, and Breadcrumb Trail.
Here is a guide to explain the quick navigation tricks (see mobile version of screen image, below)

Home-click: click on the site's logo to go right to that site's home page

Site Search: click – type- and press Enter to search both content pages and business listings for a word or phrase. The business listing search looks at the Name, Address, Description, andProducts/Brands fields for a match. how else would you expect to find "Sushi"? Or use it to find a store in a particular mall, or find a restaurant on a particular street!

Home-Home click: Click on the red Maple Leaf to return to the Canada home page ("Home-Home", as opposed to the city's Home) where you can go to other sites, or other cities

Jump-Nearby: click on the "bunny" image to get a pop-up window to look for the same page or the same business search results in an adjacent or nearby FoundLocally community. You can bunny-up from site to site, clear across the country, if you like. Very hand for trip-planning, for example, if you just finished a search of pet-friendly hotels

 Back-One: the left-pointing triangle (or arrow) acts the same as a browser's Back button, and takes you to the previous page visited

Breadcrumb Trail: this set of links takes you through the logic hierarchy of the site. The right-most link is the page "above" the current page in the hierarchy. the right-most text (if not a link) is the current page or area. you can click on any of the links in the Breadcrumb Trail, all the way up to this city's Home Page
These features are largely the same on the mobile version of the website (same number key):

The Home-Home/Maple Leaf and the Back-One are not at the top of the mobile version:
The Home-Home can be accessed with two taps: click MENU at upper right, and thenFoundLocally.com in the bottom menu.
Mobile browsers make it easy to jump back one page, so it was not worthwhile to use screen space for a similar feature.