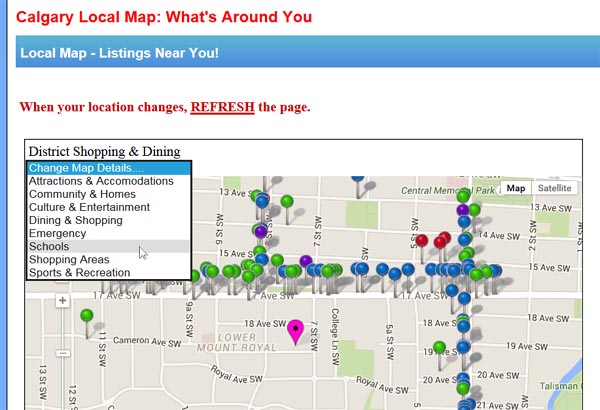 LocalMap & Searches enhanced with Responsive Design
FoundLocally.com's LocalMap uses your device's GPS location, wherever you are. You'll find it's such a handy feature, that you should add it to your device's home screen.
Search is more than just search, when you can find ALL THE FEATURES right around you—especially when you are lost, and don't know exactly where you are—so the LocalMap feature is a proximity-based search, showing you everything around you. Its displayed in LAYERS, so the screen of search results is not too cluttered. But its very handy!
A realtor can see what schools, stores, and restaurants are close to a house they are showing. A teacher can show what is nearby to their school.  A traveller can see restaurants, sports/fitness facilities, and attractions that are close to their hotel, or conversely, what hotels and restaurants are closest to their highway off-ramp.
The colour-coded pins each link to a listing, you can view more information about. The colour key is displayed below the map.

And, unlike a lot of restaurant guides, FoundLocally.com includes fast-food and coffee franchises in its search results and maps, great for families.
Accessing LocalMap
The LocalMap option is at the top of the menus. The LocalMap displays the businesses and features that are nearest to you, based on your device's (or computer's) GPS location.
All sorts of features area displayed on the LocalMap. Many  don't have a web page (transit, parks, pools), and not all are found in the "Yellow" phone directory (schools, recreation, police) , but are shown on FoundLocally's LocalMap!
LocalMap Features
FoundLocally maps build on Google Maps technology by adding layers of data from FoundLocally's database of businesses, community groups, and other features. The layers that can be shown for each neighbourhood include:

Attractions & Accommodations
Communities & Homes
Culture & Entertainment
Dining & Shopping

Emergency (fire, police, hospitals)
Schools (and libraries)
Shopping Areas
Sports & Recreation
The layers group similar  features & items together, without overcrowding the map (see the colour key below the map).

LocalMaps functionality  is now embedded in neighbourhood profiles in the Shopping >Homes & Gardens > Neighbourhoods section of each community, so realtors and home shoppers can compare prospective neighbourhoods, and in the Travel > Nearby section, for nearby communities nearby worthy of an out-of-town excursion.
The maps focus on the community featured,  not YOUR location.

See these features for your community:
Other Search Options on FoundLocally.com
Almost every page of the FoundLocally site has a context sensitive business " QuickSearch" on the right side menus (in desktop view) or the page's menu (on smartphone or tablet, click menu link to jump there). This Search Form lets you search b Category or Neighbourhood or community.
Users can jump to the full Search Form link (the light blue button) to search by business name or address (and additional attributes). You can find restaurants on a specific street, for example.
Enter a keyword into the Website Search at the top of the page, to search business name and description (how else can you find a sushi restaurant?)

Each business listing's Map option displays its location. Click the Show Nearby for other  close FoundLocally listed features and businesses. Very handy for travelers looking for stores, restaurants, or attractions near their hotel.