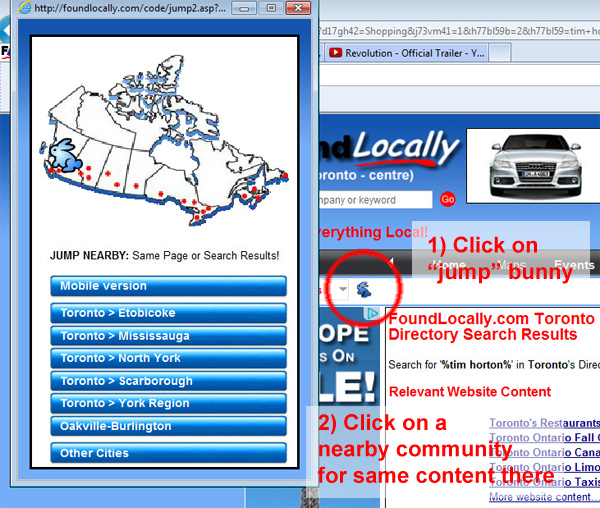 FoundLocally interface improvements: JUMP Feature
This week, we updated our look & feel, adding some colour. Everybody's doing a "simple" (but bland) white interface now… we wanted to keep ahead of the curve. See www.FoundLocally.com  as well as each of the community websites.
As well, we made our JUMP feature more prominent. We've had it for the past year, but it seem ed largely lost and ignored. By replacing a word-description with the "Bunny" icon, we figured people will discover it, and be amused by the self-explanatory pop-up window, and is "boing" sound effect.
The JUMP feature works for any page on the site, whether content or a search results page. Check out movie listings in nearby FoundLocally communities or search for a store or restaurant located nearby.
In addition to these features, we made it more =kintuitive to do several other things:
1) click on the maple leaf or on "Search Evertyhing Local" to jump to FoundLocally's main Canadian home page.
2) click on the white left-triangle in the grey stripe to  go back to the last-visited page. Whatever, or wherever that page was.
Here is a sample of the JUMP feature shown on the Calgary Movie Listings page this week:
(Click on image for full-size view of the screen)
here is a sample of the JUMP feature on a search for "Tim Horton" in Toronto:
(Click on image for full-size view of the screen)
This JUMP features works if you did a simple business name search off the home page, did a context-sensitive search on any other page of the website, or used a search form and selected multiple search options (like if you did a search for a hotel with an indoor pool and allowed pets in the room).
Needless to say, if you filtered on a local area, community, or neighbourhood that search will NOT WORK in an adjoining FoundLocally community!