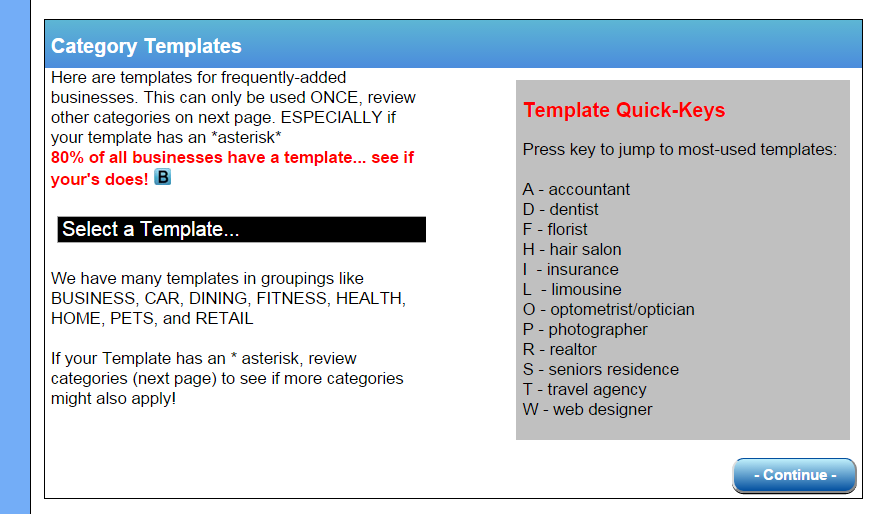 Business PROFILE Templates Improvements
As part of our Responsive Design process, we have reviewed every single form on our website( and there are HUNDREDS) to see that they are as clear and ass efficient as possible.
Over the years, we have added many templates (there are over 50 now) to help the free listing process (see "Add Canadian Business" menu at the right, for your community) for businesses by pre-selecting the categories for the most common new listings.
We have added Quick-Keys so with a single keystroke, the most common templates can be accessed (see above)
We have also organized many similar templates in groupings like BUSINESS, CAR, DINING, FITNESS, HEALTH, HOME, PETS, and RETAIL. Scroll to these and select the one that matches your business or organization type.
But the most popular dozen templates can now be accessed with a single keystroke in the menu, using the tip-sheet just to the right.
Categories Page also updated
In any case, the very next page is the Categories page, where you can review the categories already selected, and choose additional categories that apply to you and your business/organization.
TIP: If your  business listing has been on FoundLocally for three or more years, you SHOULD REVIEW the Categories to see if recently added category  options also apply to your business. Click the blue Update button for your existing category groups
This  page has ALSO been re-organized to reduce clutter, make options visible on a single screen (on most desktop resolutions) and make Do I Belong Here? pop-up tips accessible with a single keystroke.
We look forward to your feedback on our templates and the Quick Keys.
Template Cheat Sheet
For SEO & Web marketing businesses that area adding a wide variety of businesses, we have a great "cheat sheet" which fits all the categories and Quick Keys on a single page: