Retail Stores can easily spend thousands of dollars a month in various print directories and magazines (especially the hotel-room travel variety), though consumers are rapidly moving to using online resources to find, evaluate and select their dining options.
Retailers can not only raise their online "footprint" but gain operational efficiencies and save on costs by taking advantage of online ways to post jobs, events, news and coupons/discounts compared to traditional ways of promotion. These features are all free with your FoundLocally directory listing.
While many Retail Stores operate as chains or franchises, many are owner-operated with just one location. Their biggest challenge is how to stand out without massive advertising budgets and how to look as professionally-run as the "big boys". FoundLocally can help you get noticed, stand out, and get that consumer to try you the first time, and help them to pass the word to their friends, family and colleagues.
Unlike a lot of Shopping sites that only focus on high-end Retail Stores, or include only advertisers (like the in-hotel travel magazine), FoundLocally's database is free for all retail stores and services and is more complete than other Shopping & Store listings.
Because YOU, the Retail Store owner or manager can post and update your listing, you control the message. You can link your FoundLocally listing to your website, your sales notices & flyers, and your staff recruiting system to optimize your results.
Your FoundLocally listing also lets you post jobs (for both retail staff and store management), news, events, and savings (everything from coupons, to sales announcements & flyers to discounts). Each of these features might cost you hundreds of dollars a year using some other publication, media or online venue. All included for FREE with your FoundLocally.com listing.
Tips For Chains and Franchises
Chain and franchise organizations can quickly see which locations are already on FoundLocally at http://FoundLocally.com/StoreSearch. We can help add and update any changes required working from an Excel spreadsheet. Each location can link to its website/web page with its own web page.
FoundLocally has an Excel Template format to  quickly set up new or missing locations, as well as the Registered Contact information for location managers to update the descriptions, categories, and other details for their locations.
FoundLocally has handy "cloning" tools for quickly creating standardized Job descriptions or Job postings to be copied to all location's JOBS tab so they can be turned on & off at will.
Chain-wide promotions and savings can likewise be "cloned" to all locations participating in the program.
See specific tips for multi-location, chain or franchise organizations
Make the Most of Your PROFILE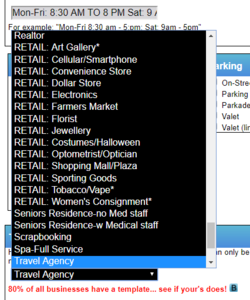 Use the Name field for your Retail Store name, and you can use the Name2 field (searchable but not displayed) to post nicknames, alternate spellings, acronyms, or corporate holding company names.
Use the Address2 field to mention cross-streets, driving directions, or best parking. If your Retail Store is in a hotel, office tower, or shopping mall use one Address field for the building name, and one Address field for your actual street/mailing address.
Use the Products/Brands to mention your unique features, product lines and services. You can also mention nearby  features and attractions in this field.
TIP: Create additional listings for each of your locations & sub-stores, especially if they have their own name, so you can use another 250 characters of description for each, and select categories appropriate to each facility. There's nothing wrong with one listing for your Retail Store and a separate one for your Service Dept, especially if they are very different in terms o

f product or service niches, business hours, and  clientelle (also see comment in CATEGORIES,below)

TIP: Use the Templates pop-up list (at right) to pre-select many Categories  (see more tips. below) with a single mouse click. If none of these look right, review other Template options, and if NONE apply, leave this list blank, and select using the Categories page options for the most appropriate ones.
Choose CATEGORIES
Select as many categories that related to PRODUCTS YOU  SELL and SERVICES YOU PROVIDE (but do not use categories to designate "target markets" which will confuse customers) as reasonably apply, so you don't have to be pigeon-holed. Some larger retailers may have hundreds of product categories apply.
Select all appropriate Categories in the CONSUMER SHOPPING categories, considering the products and services your sell and the features in your establishment. Be sure to check as many product categories that apply to the products you sell (Unlike the Yellow Pages&tm; phone directory, there's no extra cost!)
We categorize by types of products/services you sell/provide.
Use the ATTRIBUTES at the bottom of the Categories page to designate your target shopper: men's/ women's/ teens/ children/ baby, type of product: new /used (the product not the business), and special type of store: department store, consignment store. Sorry, we do not have a category for "boutique", which is typically already in the business name
If you sell products for HOMES & GARDENS (including art galleries),  or for VEHICLES, or for HEALTHCARE, you may select categories from those groups, as apply.
We frown on stores (typically gift ships or antique shops) designating themselves as "Attractions" just because they are selling items primarily to tourists. Please use only the appropriate product categories. in the CONSUMER SHOPPING or HOMES & GARDENS categories. It is suggested that you may mention tourists & visitors in your About Us description and/or your Products & Brands fields on the PROFILE page of your listing.
Multiple CONTACTS to Update Listing(s)
Set up multiple contacts per listing so different functional roles can login and update their appropriate listings.
Each location can have one or more managers assigned as Registered Contacts for each listing (on for marketing, one for HR, one for food and beverage operations, and a GM) so each can focus on the areas related to their role in the organization.
TIP FOR CHAINS: Use the POWER USER tab to copy existing Contacts over to your various listings, or to set up regional managers for chain Retail Stores
Post NEWS and Announcements
Use the NEWS tab to post any announcements that get sent out to the other community media. Post announcements about management changes, menu changes, and facility upgrades
Dramatically improve your findability by using strong keywords in the news story with your web site and your name.
Announcements stay posted until you take them down. On FoundLocally, news has a long shelf life. FoundLocally news is not thrown out or recycled the next day, like with a newspaper
Post EVENTS to build Traffic
Use the EVENTS tab to post any special events, like book signings, musician appearances, fashion shows, or customer appreciation events. You probably should not post events for private/closed bookings, where the event is not open to the public.
For regular events,  use the CLONE feature, after creating one event with a nice description, links and categories, and quickly add similar events for other sports nights. You can post as far ahead as you plan!
If you have weekly events on certain evenings, like author readings, use the "Days of the Week" event type to quickly post  up to six months worth of events on a single screen. If you change the featured author every week, then you can go in and update the individual week's event details as you confirm the author. 
Use SAVINGS to attract new customers
Many Retail Stores offer coupons or discounts, either as part of a "coupon book" or a neighbourhood promotion. You can replicate those using the SAVINGS tab of your FoundLocally listing
Set appropriate conditions, limitations, and expiry dates for your offers. The SAVINGS form has links to sample text you can use
Coupons are numbered, to track the number of coupons and redemptions
Post your JOBS
Post job openings as part of your listing. Go to the JOBS and click on "Add New". They are automatically posted to the FoundLocally Jobs Board where job hunters typically look for opportunities.
You can post retail, delivery, customer service or management positions on our site. All postings are free with your business listing. You can set a variety of job types including full time, part time and contract, as well as the level of desired experience.
When positions are filled,  login, go to JOBS and de-activate the posting. You can just re-activate the posting later when another vacancy appears, whether in a month or in a few years.
De-activated JOBS postings  are not deleted unless you choose to. But if it saves you typing, looking up a job description from a file, remembering what you said the last time, and didn't have to pay the local newspaper for another Help Wanted or Careers ad posting, why not use this functionality?
Use SAVINGS to attract new customers
Many Retail Stores offer coupons or discounts, either as part of a "coupon book" or a neighbourhood promotion. You can replicate those using the SAVINGS tab of your FoundLocally listing
Set appropriate conditions, limitations, and expiry dates for your offers. The SAVINGS form has links to sample text you can use
Coupons are numbered, to track the number of coupons and redemptions
Invite RATINGS and Reviews
Be do not permit owners and staff to write reviews of their own Retail Store. You are most welcome to review other places where you shop, dine or imbibe.
Invite your regulars and your best  clients to post their own ratings and reviews. This way others will discover why your establishment is worth  visiting.
Facebook login is required to post reviews, to reduce review fraud, abuse, or spam
Ratings are permitted 1000 characters of description, much longer than we permit for a business lsiting, and generally long enough for most reviews (other than the pretentious self-pontificating ones, which on online readers take the time to read, anyway)
All contacts for your Retail Store get copies of reviews as soon as they are activated.
FoundLocally will remove reviews that we consider libellous (ie untrue cases of food poisoning).You can notify us using the Feedback button on the page with the offending review.
We generally don't remove negative reviews, since they are a matter of opinion, not fact. The best response is to get your regulars to balance the opinions by posting favourable reviews.
Add your LOCAL Free Listing to FoundLocally.com