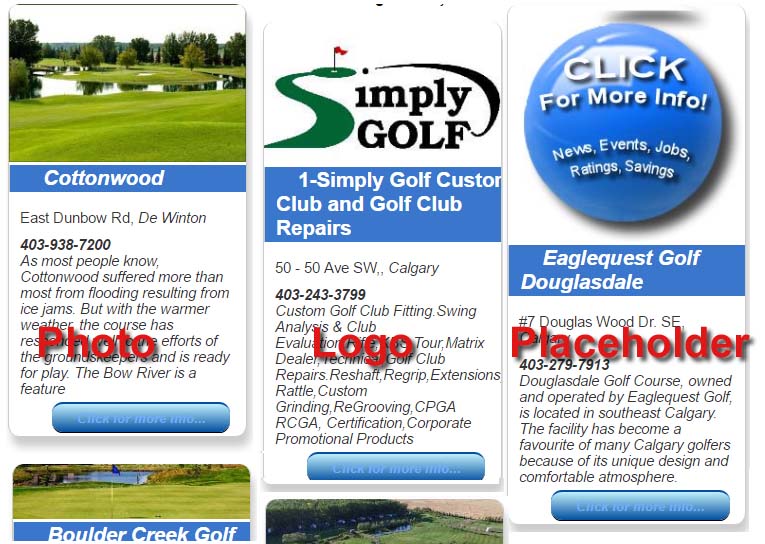 What should I use for my Logo?
You can now upload a logo for your listing(s), rather than displaying the default blue 'click for more info!" button.
The question most people phone us to ask advice on is, what image or logo to use that works best. The logo or photo is your best chance for a great "first impression".
FoundLocally's search results display 20 at a time, each with their logo. You should try to stand out as much as you can, to improve the odds that your listing is looked at first, or at least among the first.
Uploading a Logo or Photo
The default weblink logo, if none uploaded
To add or update a logo, go to your FoundLocally.com listing and click on the "update photo or logo" link underneath the existing logo or the default "CLICK for more info" blue circle (shown at right).
This takes you to a screen where you can upload any photo or logo file from  your computer or network (you must login first, to access this page).
Also, if your logo is NOT displaying, its most often because you have not provided a weblink ("URL") to a website for users to CLICK TO!. Sorry, no website, no clickable link!  Worst case, create a Facebook page for your business (one that looks for "likes" not for "friends") and link to that page.
Selecting the best Photo or Logo
If you are part of a chain or franchise organization, you often MUST use the logo specified in your franchise agreement. Check their website (or look for it on a disk/CD in your Operations Manual) for the image
If you are a personal services business, including realtors, automotive salespeople, lawyers or accountants, it's foten best image to use a personal photo. If you are not happy with any images on your computer, dress like you do when meeting clients, and take a photo with your digital camera or smart phone. Some people or professions look better when smiling (say "cheese!"), while some look better serious, and some in between. Take a few different photos, trying different angles (face left, center and right…chin up, can down) and try some with flash on or off. With digital photography, there's no extra cost for multiple shots, and no more waiting hours or days for results to be viewed. When you are happy with the photo, upload it.
Some businesses are best portrayed by a location photo. A store photo can combine the building with the sign, to fit the logo in, or include a photo of a seasonal display window (update this image as often as needed!), or your merchandise (create for car dealerships). If you are a small store in a mall, you might just use or take a photo of the mall, or the mall's sign.
If you are in a weird or hard-to-find location, you might take a Google map image showing your location (keep their logo in the lower-left corner and copyright notice in the lower-right corn
Other businesses are known for a feature product or service. Especially if you are a mail order business, or your product looks better than your store or logo. Again, if you are not happy with an existing photo, take the time to shoot a bunch of photos using a bunch of angles and variety of lighting conditions before picking the "best" one.  A restaurant might showcase a feature dish (if you'd like to use a photo from a review, remember the copyright in the image belongs to the photographer and/or the publication, so you can't use it without prior permission).
Some businesses might even be best captured using ascreen capture of their website.  But keep in mind 250 pixels does not show a lot of detail.
Resizing the Photo or Logo using Image Uploader
Because digital cameras take photos in very high resolution, sometimes thousands of pixels in any dimension, and sometimes up to 10 megabytes in size. Such large images in their raw form might take minutes to download , slowing the entire website or search results.
Our IMAGE UPLOADER automatically resizes images to under 250 pixels, and optimizes them for faster loading.
More tips on what images to use for your FoundLocally.com listing.