Today, Realtors™ and real estate professionals can maximize their online marketing visibility by using their FoundLocally.com directory listings.
FoundLocally provides a free self-service TOOLKIT for individual realtors and for real estate offices to promote yourself, increase findability, and promote your open houses to help drive sales. These tools increase website visibility (more link-backs), and your FoundLocally listing will pump your Google ranking (one of our many "superpowers"!)
Realtors are in a very competitive business, and it is hard to stand out and differentiate yourself from any other realtor . Your web designer or web marketer may offer a "Realtor Package" to elevate your SEO findability. They may increase your website page count (or "footprint")  by providing  several useful but system-generated pages, but this does not necessarily help with realtor differentiation.
Realtors should do several things on FoundLocally to improve both findability and differentiation:
Making the Most of Your PROFILE
Enter your name & company affiliation in the Name field. Either order works, to rank higher in alphabetical order. That way they ARE CERTAIN to find you when looking for you or your office name. There are two things we do not recommend you do:
a) DON'T use a generic web marketing-style label like "Downtown condominiums"… EVEN IF it's your web domain's name. People like to know WHO they are doing business with. Put the domain name in the Name2 field, which is searchable but is not displayed.
b) Because we are a directory, we want the realtor's name in the listing,  if you want to use the Realtor category your listing MUST include the Realtor's name (only professional & licensed realtors may use that category).
Do not enter web marketing or branding keywords in the Name field, but offer them as alternates in the Name2 field. If you have multiple domain names, each is NOT entitled to individual listings, but may be listed in the Name2 field, which is searchable  (as are the About Us, the Products/Brands, and the Environmental fields)but not displayed but not displayed .
To avoid confusion (or misleading the public) office listings without a realtor named MUST list the office's general phone number and the office's website, not a realtor's
Because our business search scans the Name fields as well as the About Us and Products/Brands fields, keywords in ANY of those categories will help your web marketing, unlike less functional directories (like the Yellow Pages™, etcetera)DON'T use just the office's name, unless you are the broker-owner using the office's main phone number and linking to the office's website. This is misleading, and will get the broker-owner plus the office's other agents (who expect their fair share of leads that the office generates) mad at you.
Use the Description field on their PROFILE page to showcase their personal interests and accomplishments.
Use the Product/Brands field to showcase the areas they farm, the types of houses they specialize in. This field is permitted to be a comma-separated "keyword dump" Enter the most common search phrases like "downtown condos", "Fairview starter homes", but keep in mind the tight 250 character limit on what you say. Be very selective
Post a link to your website and in the Contact field you can either post your e-mail address or link to your Contact Us form, where you can pre-qualify the buyer or seller in your own way.
In the Logo field, you can either post a logo of the firm you are with, the logo of the office, or your own photo. Logos & Images must fit inside a 250 pixel square. Any larger images will be resized by FoundLocally. BIG DECISION: Use your photo, or your office's logo. Only you can decide which is more important to your branding and your success. (you can always chamge this later on)
Choose Areas in the Pop-down list to designate the areas you "farm" or specialize in. Pick TWO, so people can choose you based on how close you are to them. There is no value in choosing opposite ends of town.
At the bottom of the PROFILE page, we have a number of pre-selected Category templates that apply to realtors: Realtor, and Realtor Commercial. And if you work with a home stager, please let them  know we have a category for them, and ditto your favourite mortgage broker. Please do not select "FSBO" in the Homes & Gardens Categories if you are a realtor, since this category is used for services and websites helping consumers sell their homes without a realtor.
TIP#1: Upload a realtor photo instead of a logo
TIP#2: See comments for USA Residents moving TO Canada
TIP #3: Focus on Real Estate
Automatic inclusion on MovingInCanada.com
Once you are in the FoundLocally.com free listings database, you are automatically included in the search results for our sister site, http://MovingInCanada.com, which also has excellent information about Home Neighbourhoods & "Moving HotLists" to help people settling into their new communities.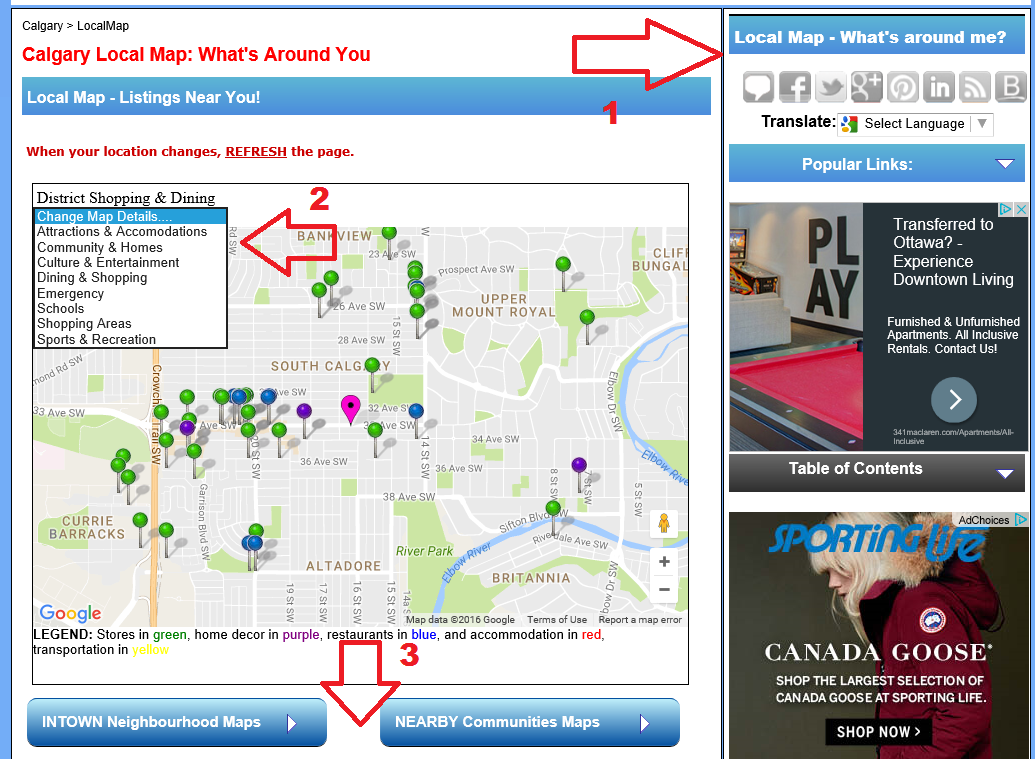 Local Map shows off  a neighbourhood's features!
(1) Use FoundLocally's LocalMap, when showing a home in a community you are unfamiliar with (it happens!)
On the desktop/laptop/tablet version: use the "Maps" button at the top of the screen
On smartphone version it's one of the action buttons on the city's home page
(2) Use the "LocalMap" feature to show schools, transit stations, shopping, sports & recreation, and shops & restaurants to your clients. And it displays in layers to reduce clutter!
(3) The map is (and works) the same if you use our Homes & Gardens > Neighbourhood maps, if you are planning showings in several communities
We have over 200,000 businesses, community groups, schools, and other features in our database. Features that are not accessible this way with Google Maps alone!
Opportunity for Broker-Owners
Add a listing for the office, with a link to the office's web site.
The broker-owner of the office can enhance the online marketing with a listing for each and every realtor in their office. FoundLocally can clone listings for the realtors, using the office's listing &  description, and data from an Excel template.
We can assign temporary passwords for the realtors, which they can update and then modify their own Descriptions, link to their own website (if they prefer), and post their own open houses to their EVENTS tab.
Posting NEWS Announcements
 Post news about accomplishments and awards to the NEWS. These are live right away (once your listing has been activated), and stay there as long as you want (the default is about 900 years!) … try getting that response and visibility from the local newspaper, unless you are a "Golden Child".
Announcements stay posted until you take them down. On FoundLocally, news has a long shelf life. FoundLocally news is not thrown out or recycled the next day, like with a newspaper!
Dramatically improve your findability by using powerful  keywords in the news story with your web site and your name. In addition they can improve your credibility as an industry resource
Post Your Open Houses to EVENTS
Post your Realtor Open Houses to the EVENTS. We have a special events type for realtors that help build traffic to the homes you are featuring. You can link to a specific page on your website with info on that property.
Post any public speaking opportunities, or other public/media appearances, so people know where they can meet you
Get Ratings & Reviews
Invite your happy home buyers and sellers to post their Ratings & Reviews, to help others learn why your homes (or your communities) are worth buying from a client's perspective
We do not permit you (or your family members) to enter your own reviews, but we provide a simple form to e-mail an invitation to your clients.
Add your LOCAL Free Listing to FoundLocally.com

Don't forget to also post any News, Events (open houses), Jobs, and Savings to promote all aspects of your business and operations, (using the respective tabs in your listing).
Broker-Owners should ensure EACH of their agents has their individual listing combining their name with the office's name, to ensure the strongest presence in the community. Contact FoundLocally to efficiently set up each agent with a login so they may update & post to their individual listings.