Pre-selected Category Templates added
FoundLocally has added a number  of templates for pre-selecting categories for many businesses frequently added onto FoundLocally.
Each of our listings goes through a 'human review' to ensure both localness and that appropriate categories are selected, consistent with the listings's description. For many common types of businesses and organizations we have created category templates to speed the listing process, and reduce category selection errors, or missed category opportunities. The Category Templates pop-down list is found at the bottom of the PROFILE page for adding a new listing.
In November 2008, FoundLocally added a number of Category templates to speed & simplify the process for many typical businesses. We noticed that certain types of businesses had difficulty finding & choosing the categories most appropriate to them, which is not surprising considering we have about 5,000 total categories a business can choose from. They either chose inappropriate categories, wrote in "Other" options that were already offered in the existing category options, or did not enter any categories (ie, "gave up").
Each of these required personal effort as part of our "human review" process to manually select the appropriate categories so businesses and organizations get optimal benefit from their free listings. This affects our economics as the number of new business listings continue to grow.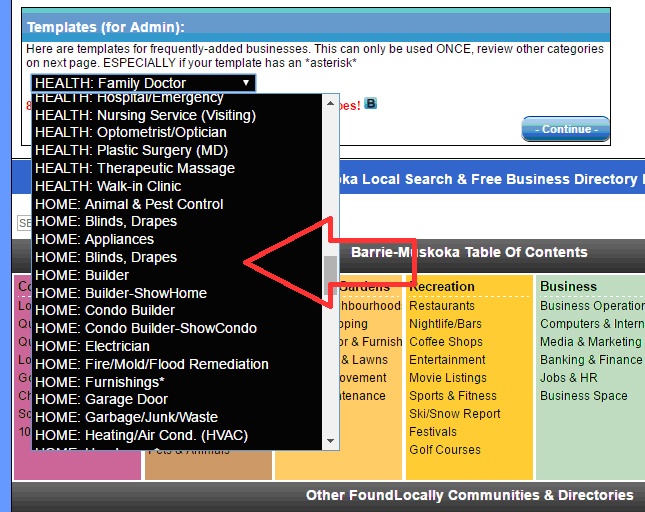 We create a number of pre-selected Category "templates" for a number of commonly-added businesses, which can be selected at the bottom of the PROFILE page
(list udpated May 2010)
Accountant (CA, CGA,CMA…)
Ad Agency*
Art Gallery*
Car Dealer, with service/repairs*
Car Dealer, no service/repairs*
Car & Collision Repair*
Car Rental
Cell Phone Dealer
Chiropracter
Coffee Shop*
Day Care Facility
Dog Walker
Family Dentist
Family Doctor
Festival*
Financial Services (selling)*
Financial Planner (advising)*
Florist
Gas Station-no Service
Gas Station-with Service*
Gift Baskets
Golf Course
Greeting Card & Gift Shop
Hair Salon
Hair Salon With Spa*
Home Furnishings*
Home Handyman*
Home Painter
Home Staging
HomeBiz-Avon
HomeBiz-MaryKay
HomeBiz-Watkins
Hotel/Motel *
insurance*
Landscaping business*
Limousine
Marina (just moorage)*
Marina (with service/repairs)*
Maid Service
Martial-Arts School
Mortgage Broker
Office Cleaners
Performer (Individual)
Performing Arts Group*
Photographer
Pub
Public Library
Realtor
Realtor-Commercial
Scrapbooking
Spa-Full Service
Sports Team*
Sports League*
Ski Hill
Taxi
Therapeutic Massage
Travel Agent
Web Site Designer
Winery-With tasting shop
Winery-no tasting shop
Women's Consignment*
Items with an *asterisk should review their Categories to see if additional related options can be selected, that reflect what YOU DO or what YOU SELL.
We continue to review the category selections for every business, as part of our "human review" to ensure that each listing has the best chance of being found. Since adopting this Category template list, we have noticed that the number of business/organization listings selecting appropriate categories has dramatically increased.
TEMPLATES PRINTABLE CHEAT SHEET 
We would be pleased to work with industry organizations, professional groups, and chain/franchise organizations to add templates to suit their needs and assist their members to improve their web marketing on FoundLocally.com.