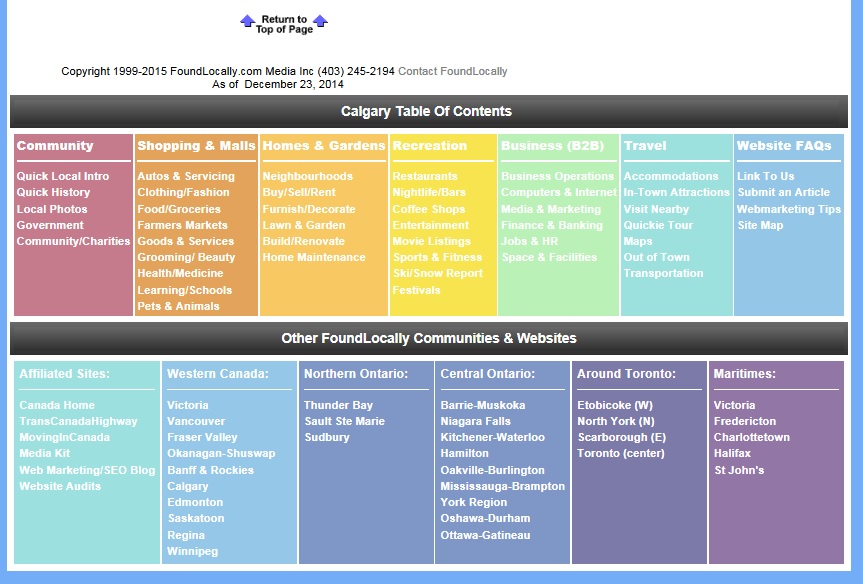 New Table of Contents for Easier Navigation
We've improved the Table of Contents on the bottom of FoundLocally.com's website pages. Two years ago, we made them "collapsible" to give  our website a tighter & cleaner appearance, but nowadays Google penalizes website for content not displayed.
So, we added back the full Table of Contents back to our page footer, integrated with our Most Popular Links, as well asl lnks to other FoundLocally.com communities across Canada, and our affiliated websites.

Click on the Table of Contents link (in the right column) to jump to the new colour-coded content. See http://www.FoundLocally.com or any of the community websites…


We'll watch closely the impact, not just on how users travel through our website, but also how it impacts our Google, Bing and Yahoo rankings… we'll keep you posted here.
February 3, 2015: We have seen a 40% jump in traffic due to the keywords and links in the new menus at the bottom of each pages. This confirms what we have read that Google ignores pop-down menus or collapsible/hidden content that is not actually displayed when a user clicks on a link or search results. Their spidering and indexing software must be pretty sophisticated to to that!
Hiding important content, so it's included in the HTML code, may provide a website or web page a cleaner appearance, and might even simplify navigation, but this practice clearly has a detrimental effect on search results and search traffic.