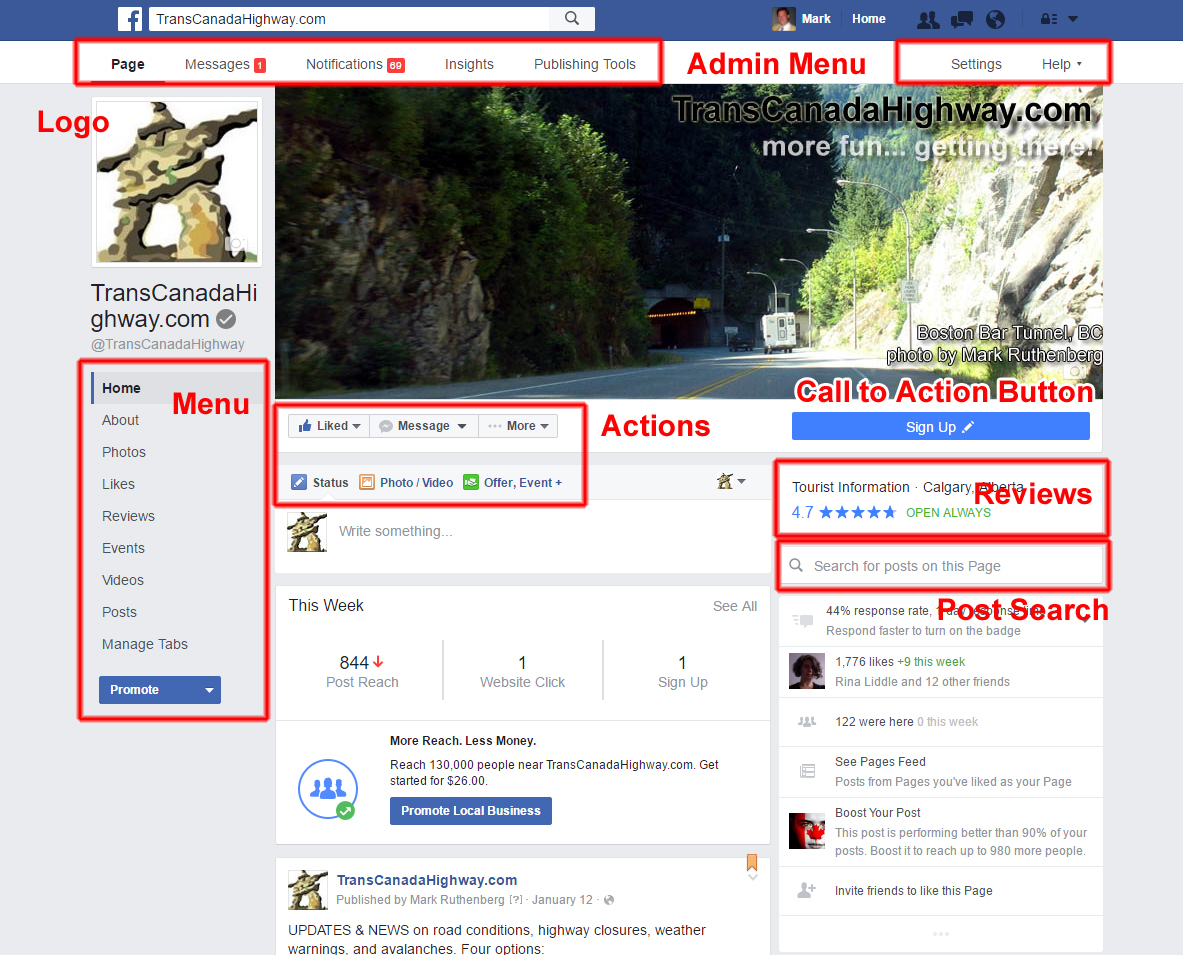 New Facebook Pages layout
Facebook is an important Social Media website… it is particularly important for those  that target consumer– rather than business– clients. For all businesses, Facebook is important, because it is one the top four  search platforms (Google, YouTube, and Bing are the others on this list) that are important just because that is where people are, when they choose to enter a search term. If done right, Facebook is a cost-effective long-term way to build market awareness, increase customer loyalty,  and be more responsive to changing market conditions. All for as little as ten minutes a week!
What Has Changed?
Over the weekend, Facebook has updated its layout for business pages, simplifying it for businesses. Most immediate change is that the logo, business name and @name no longer layer on top of your Timeline Photo, but are to the left of the photo, and the action buttons and Call to Action are below that image.
TIP: use the Timeline photo to create strong emotional images, which engage your audience & clients. Update this image often, at least once a month, to keep your page looking "fresh"
The Reviews (enabled for businesses that display their address), are off to the right of your posts, as is the new Posts Search.  The Posts Search may mean that users can quickly access older posts (including "Sales" promotions lacking a clear expiry date, which you should fix).
The redesign makes key Admin features more accessible, while letting the Timeline photo be a stronger part of your online presence.
Expanded Photo Options
Also part of this week's Facebook changes, are that menus have moved. The menus that most Admins use the most are Settings (upper right) and About (left-side) where you can adjust various elements of your Facebook Page.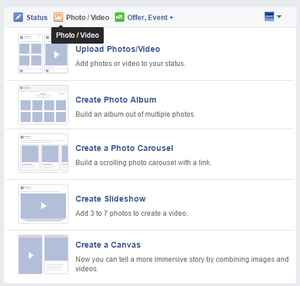 The Photos/Video button has some new features, to give your Facebook page more of a WordPress look & feel.  From this button you can now also   create a Photo Carousel, a SlideShow, and a Canvas (combining photos and video).
TIP: Take advantage of these new capabilities to create strong photo or video content