WHITE PAPER: What's Important, What's Changing?
The Current State of the Art in Public Company and Investor Relations websites
Written by Mark Ruthenberg
of TransCanada FoundLocally Inc
November 2018
Pubic companies and their Investor Relations (IR) Advisors need to be aware of developments in technol­ogy that simplify their work and effort, while making reporting better and compliance easier. We will be reviewing the current state of reporting and technology, to outline the current Best Practices in IR online reporting.
The audiences for public company investor websites are not only investors, potential IR clients, industry peers, the financial industry (including M&A), and regulators. The websites should address the range of information needs and financial sophistication of these varied audiences
Contact us to request a PDF copy of this whitepaper. Perfect for sharing at your next management meeting or board meeting.
Summary
Investors  and regulatory authorities have  moved quickly into the digital world, providing almost immediate dissemination of information to the markets, while improving consistency of information across stakeholders.  And for millennial investors, that's the only way they know how to access their information.
Publicly-traded companies, both large and small, need to rise to Best Practices not only for disclosure of information important to investors, but for rapid dissemination of news and information to investors. They also need to be able to make their website adaptive, in order to keep  their investor branding fresh–and most importantly–consistent with consumer marketing changes, without requiring a massive effort and delay. This is done with sophisticated Content Management Systems (like WordPress) and customizable "themes" .
---
Look & Feel
Websites used to be created using customized programming, cumbersome layout, and requiring a lot of HTML coding. Nowadays, publicly-traded company and investor relations ("IR") websites have largely gravitated to Content Management Systems (a CMS) like WordPress, which organize the content into an underlying database, and applying one of many different "themes" (or template) so that content is managed separately from the "look & feel". WordPress's  themes provide a structure and framework for design options, while allowing a high degree of design customization to suit each company's or website's needs.
Old Website Design & Process

Current Website Design & Process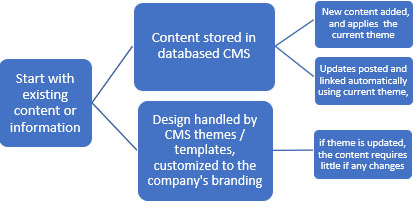 A warning about WordPress: not all themes are the same! A good Public Company and Investment relations website should database as much of your content as possible, so that it can be sorted and filtered as effectively as possible. Not just for the company and its web developers (or after its done, the company's IR or Communications staff), but ease of use for investors is the TOP CONCERN.
The ability to scale properly as the company grows in size, issues more news releases, is active in multiple jurisdictions limits how swiftly you can publish news, and how easily investors can identify which information impact their buy/hold/sell investment decision.  A significant responsibility lies in selecting the right platform (including the WordPress theme) before commencing design or programming
As much as IR sites are communicating facts and information to investors, they are also important for communicating a business's "brand". They can also help promote and sell its products (or even upcom­ing products). Visual appearance of website is increasingly important, and first-class photography is important.
A website should have lots of quality photography of the company, its people, products, services, and locations. Stock images should be used judiciously, and avoided whenever they look generic or cliché  (who hasn't seen a "handshake" photo beside website comment about "trust"?)
In the olden days, colour was expensive for printing investor brochures and reports, so smaller companies often printed reports to investors in black & white, or with just a colour cover. In the digital age, not only is colour "free", but many investors prefer instantaneously available online reporting and downloadable digital documents (in either PDF or web formats), to waiting for a paper copy to be mailed.
Some companies even provide video or interactive (even game-ified) versions of their reporting to investors.
Content Coverage & Scope
While IR sites focus on investor-facing information and perspective, the website may have customer-facing marketing content in the same website, or link between separate purpose-specific websites. If people already fans of your product, then they may also be willing to invest in your company and growth.
Consistency of story and brand is crucial to keeping the trust of both audiences. You can't tell investors you are "getting high margins", while telling customers they are "getting value". You can't tell investors you have a "low cost of labour" and on your HR/recruiting site say you "offer above average pay and benefits".
Larger companies or conglomerates put their Investor website in subdirectory, like "www.company.com/investor" or "www.company.com/investor-relations" (both are acceptable). Some have an "Investor" link in their main menu bar. Smaller companies (especially those in pre-commercial or early stage development may have their entire website be investor-facing content.
Two Approaches to Corporate/Marketing and Investor Relations
Essential Elements of a Public Company Website?
Think of the website as a real-time always-updated annual report. Canadian public companies must file their reports and documents with SEDAR, but their investor news releases (after review and pre-approval by their overseeing regulatory authority) are always posted to their websites as well as distributed to investor media and general news media (using a variety of channels like Canada Newswire) to get the broadest audience.
At the very least the Investor website should have the latest annual report, management discussion and analysis, management proxy circular, and annual information form (and for all prior years), and corresponding information for the most recent quarter (and all prior quarters, by year). The website should also link to (or include) a stock price chart, with information about high, lows, closing and volume on any given date (to help investors with their tax returns and tax planning).
Many websites have high-level mission statement and business strategy statements, a listing of investor events, investor presentations, and announcements (past and upcoming).
When a company is being followed by high profile analysts, their names, companies, and contact info (typically phone and/or email) are also provided. Many companies include an FAQ section with info like ticker symbols, the AGM, the Transfer Agents name, and recent major transactions. They also disclose (or link to) the company's management team and board of directors (more on this below).
If you have a presentation deck (in a locked PDF or PowerPoint, to prevent alteration) you should include them on your website. Transparency is not only good business, but it's a regulatory requirement, that information provided to one investor or stock analyst must be provided to all. Many companies include prior presentations and decks, so that investors can see what expectations management created in the past, and how well they met those expectations.
Site Search
WordPress and many CMS platforms have simplified search for content. News releases, investor announcements and earnings reports, and media mentions can be classified  by date, by product lines, by business segments, and readily filtered on any such parameter. They are also searchable by keyword contained in them.
Investing in People
An investor facing website should clearly disclose the members of the senior Management Team and its Board of Directors, as well as some information about the size and scope of the number of employees and their geographic distribution.
For each member of the Management Team and Board, you should have a photo, their name, tile, and a summary of their key experience and contribution/benefits to the organization. More detail can be provided on their LinkedIn page, which also helps the management team with their professional networking on the company's behalf. Your company should have its own corporate LinkedIn Page, if only so individual profiles have your logo, and that people can got the company page and connect to your website.
We have seen several companies where the info in the executive's bios and on their LinkedIn pages neither matched nor told a life story of their how they got to be qualified for the positions they now hold. We've even seen LinkedIn profiles for major companies with just their current position and employment. This is bad business practice (unless you were born into the position, in a family business) and makes all involved look like social media "newbies " – or worse – smacks of being evasive. And it doesn't help your senior people with their business networking on the company's behalf.
See https://www.cipd.co.uk/Images/Reporting-Human-Capital-Research-Report_tcm18-15945.pdf
Segmented Reporting
While the accounting for a company and its Management Reporting must include information about a company's business segments (typically because they are "material" and account for at least 5 or 10% of revenues and or expenses), then the investor website should provide more detail. Segmentation may be by product, service, or geography.
Some companies that may be subject to more significant regulations and reporting, should also provide additional information to investors to provide assurances of their compliance.
See https://www.pwc.com/gx/en/ifrs-reporting/pdf/segment-reporting.pdf
Products, Services, Properties
If the company does not have a customer-facing website, or does not have much in its segmented reporting, then it should provide highlights of its products, services and/or properties on its investor website.
A product or service oriented company should feature photos of their products, services, and happy customers. And the web pages should include key features, benefits, and competitive advantages of their offerings. These should be written by the marketing people in the company 9who sell them to your customers), and then tailored to what investors may want to focus on.
A real estate, mining, oil & gas company should have maps and photos of it various properties, with closeup maps showing developed infrastructure, and a large scale map so investors can locate those properties (or at least the close-up map)  on a national or regional map.
Sustainability
Today, more investors (and especially "socially conscious", often shortened to just "conscious" investors), hedge funds, and mutual funds are looking at a lot more than a company's bottom line and business strategies. They are considering a variety of social issues including: ethics, governance, environmental stewardship, first nations relations, workforce diversity and non-discrimination, "fair trade" practices, anti money-laundering compliance, industry and trade group memberships, and charitable efforts.
Not all of these apply to all public companies, and not all are of concern to all investors. But failure to provide information excludes a significant group of investors from of your pool. It may even cause some investors to remove themselves (and their funds) from your investor pool. See http://tsss.ca/channels/esg-investing/report-sustainable-investing-is-quickly-becoming-the-new-normal
Media Mentions & Awards
When a public company, or its staff, or its products get mentions in various media, those mentions should be reported. Reporting can link to the source's website, but a better method is a link to aa PDF, or "scraping" the content of the article or mention, with appropriate credit and attribution (get this permission before publication).
Many companies with media mention in Post Media (previous CanWest, previously Southam) or on Rogers (previously MacLean Hunter) publications, lost longtime links to media stories posed on older media website when suddenly the publishers moved to a WordPress CRM, and not only changed site structure and navigation, but left old content inaccessible to website visitors. Also, recently, some publications (New York Times, Wall Street Journal, and others) are moving to a "paywall" business model limiting or preventing access by those who are not paid subscribers.
Media mentions are typically organized separately from (but may be integrated with) the company's investor news releases.
Your AGM
Companies should announce their Annual General Meeting date, time and location, and the date of record for eligible stockholders, if they wish to attend and vote at that AGM. The proxy circular should be posted online.
During and after the AGM, the company should report on any major speeches and announcements made. Some companies provide verbatim transcripts, some provide a video livestream of the AGM, and some do both.
Newsletters and Subscriptions
Now that CANSPAM legislation is in effect, you need to ensure that all subscriptions are explicit and a "double opt-in", which means the not only click "subscribe" but must go to their inbox and click on the "confirmation" email before they are sent other emails. It must also be clear that they can un-subscribe any time (for example, they may sell the stock and no longer be interested).
While software and database can be developed to handle this, two low-cost no-hassle methods are Constant Contact and MailChimp, which even provide the code for the subscribe and opt-in for your website. And include an unsubscribe link in the bottom of each email sent, as well as provide a link for your website. Importantly, both enable you to import (via spreadsheet) existing investor subscribers.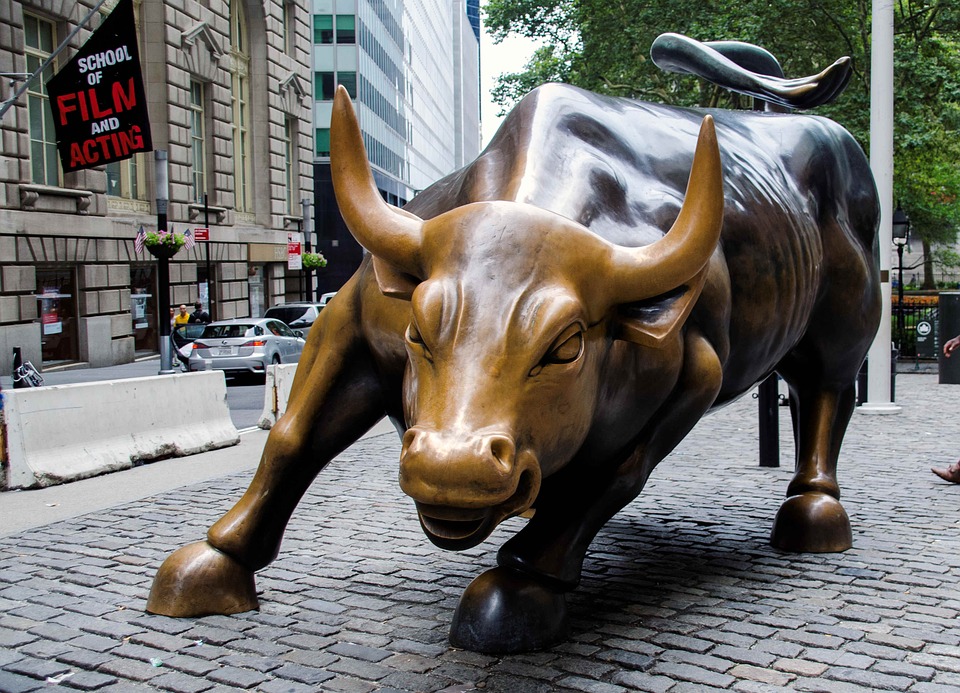 ---
Issues unique to Investor Relations Professionals
These firms or individuals help create markets for companies by broadening their investor base. They do this by maintaining email or telephone connections with their pool of potential investors, and make them aware of new companies, new developments, and investing opportunities.
They also communicate with their connections working with stock brokers and other professionals who can use this information for the benefit of their clients. Small public companies need such services because often their stocks are thinly traded, particularly in the pre-commercial / pre-development phase, and small changes in supply & demand can create lager swings in stock price.
These firms need to communicate news about one or more clients and make it easy for their investor pool to access the latest info about the clients they represent. They also need to be able to use the website as part of their phone patter, so that clients they chat with can quickly move to a page or website, which provides more details so they can do their "due diligence" before investing.
That means releases and news need to be quickly sortable and searchable by client, industry, and date. Their websites also need to link to key pages on their Public Company clients' websites (which also need to be up to current Best Practices for website design and for disclosure compliance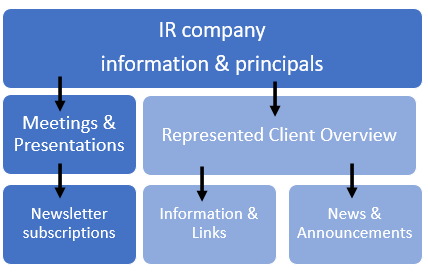 Special Notes for Small Public Companies
The challenges most companies face are a combination of (a) still under-capitalized in the early stages but (b) need to look larger than life and (c) need to be cautiously frugal on reporting and investor relations, while spending as much as possible on actually growing their company
A good WordPress Theme, with a solid underlying database, means that the company can "re-skin" its website to new standards of design, appearance, and branding as it matures and grows, without cumbersome copying & pasting content from an old version of the website to a new one.
While Google's search engine will spider and catalogue a PDF as well as a web page, WordPress's search only works on content in its database, so a company's information NEEDS to be in a web page first, but should include a link to a printable PDF (which is why this White Paper is available online as well as in PDF).
A properly designed and keyword-rich website will get your company good "organic ranking" on Google and other search results (that group includes Bing, Suri, Alexa) for investors looking to invest in a company LIKE YOURS, and conclude you in their investment shortlist, without the company having to spend capital on Google or Facebook ads.
It is important to supplement website with  an email newsletter along with traditional financial media distribution for your investor news releases.
---
Summary
Key elements in a company's investor relations website include:
Use a powerful and flexible Content Management System (CMS) to manage design separately from content, and to simplify future updates and maintenance
Post all IR news to the website and integrate with an IR newsletter subscription
Ensure website includes all key content of interest to investors:

Annual and quarterly reports, with Management Discussion & Analysis (MD&S)
Company mission, strategy, and investor presentations ("decks")
Management & Board bios, with LinkedIn integration where appropriate
Segmented reporting, and information about key products, services, and/or properties
Information about company's social policies and sustainability
Information about your AGM
News releases, investor news releases, links to SEDAR, media mentions, and newsletter subscription
---
Resources
To prepare this, and for Best Practices, we looked at the investor websites for Air Canada, Boardwalk Real Estate Investment Trust, Barrick Gold. Imperial Oil, Royal Bank, PostMedia, Rogers Communications, Yellow Pages,
We also reviewed 40 websites for junior companies on the TSX Venture Exchange, and sites for Investor Relations professionals to observe deviations from Best Practices and for website innovations.
About TransCanada FoundLocally Inc
TransCanada FoundLocally Inc is a web marketing company, that also runs three of its own high-traffic Canadian-focused websites including TransCanadaHighway.com (travel), FoundLocally.com (local info & search), and MovingInCanada.com (real estate & neighbourhoods). These websites have been live since 1999, contain over 100,000 informative pages of web content, and the database of companies, who have added their listings numbers over 200,000 businesses and locations.
Over the past 19 years we have helped many dozens of companies with their website design, development, and web marketing. The information about our Web Marketing services is on our http://Marketing.FoundLocally.com website.
Before starting FoundLocally, the company president Mark Ruthenberg was with another web startup 1995-1998, founded a multimedia courseware company (1993-1995) that he took public, a computer training & classroom courseware company (1988-1993), and started his professional life as a Chartered Accountant with his own practice (1983-1987).