Adding a Business in the Greater Toronto Area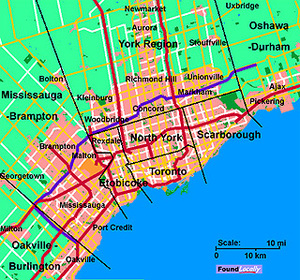 FoundLocally.com has a number of directories serving the Greater Toronto Area (The "GTA") for a few years now.
Which Toronto Directory should I add my business to? While many directories lump everyone from Belleville to Brantford north to Barrie as "Toronto", we—as FoundLocally—like to help consumers find businesses and services right in their own community or neighourhood.
When we were implementing ZIP Code blocking for US-based businesses not close to one of our featured cross-border communities (Niagara Falls, and Sault Ste Marie) , but still trying to add themselves (or by their SEO professionals, add their clients to our high-PageRank directory), we realized we had a similar issue with Toronto-area businesses.
Most businesses see the note at the top of the Toronto "Free Listings" and quickly move to the most appropriate directory to add their business or organization.
| | |
| --- | --- |
| West of the Humber River: | Etobicoke |
| | Scarborough |
| | North York |
| | York Region |
| Along and north of Lake Simcoe: | Barrie-Muskoka |
| East of the City of Toronto | Oshawa-Durham |
| West of the City of Toronto: | Mississauga-Brampton |
| | Mississauga-Brampton |
Only listings located between Eglinton and Lake Ontario, between the Humber River and Victoria Park are appropriate for our Toronto directory, roughly reflecting the pre-megacity borders.
However, many try to add themselves to the "Toronto" directory regardless. We check new business listings on Google Maps to verify that you are in the right directory, and until now have manually moved listings to the correct directory. Enough!
To save everybody time & effort, we've implemented special filtering for addresses for businesses registering in our Toronto directory, to automatically insert new business listings <B>into the most appropriate directory</B> in the Greater Toronto Area ("GTA").
This also give a business the opportunity to go back and on their Profile page set the most appropriate[two] communities or neighbourhoods form the pop-up lists to help their closest consumers find them (instead of some distance faceless call-center based business with just a toll-free number).
What if I do business in other parts of the GTA?
We have listings for many service and transportation businesses that service the entire GTA, but have an office (or garage) in just one location. In that vase, sorry, but you are entitled to only one listing based on that location.  After all, there was a reason for you setting up shop there. And aren't you able to provide faster and better-quality service consumers really close to your location? We let you use that to advantage.
There are plenty of other directories that are not locally focused. You should consider expanding your web marketing and SEO efforts to those directories as well. Many are listed in our directories at: (grab from YPS! Pop-up)
What if I have multiple locations around the GTA?
In that case, you should read the recommendations for chains, franchises and multi-location businesses on our web marketing & SEO blog at https://marketing.foundlocally.com/chains
What you should do is:
FIRST, add yourself as a Registered Contact, and then register the head office (or regional office) in the FoundLocally community where YOU are located.
If this is not a retail or service location, you many not want to select categories for this location. You must always provide the correct street and/or mailing address. Do not "hide" the address from public view if you want consumers to either send mail to that business address, or want job seekers to send resumes to that address. Be sure to upload your logo or a photo for this first listing, from a graphics file on your computer (the file should use a JPG, GIF or PNG file format, not be a BMP file— which is not web-friendly)
SECOND, use the CLONE pull-down list to set up additional locations in the most appropriate GTA directory based on each physical location. If you did not set categories for he first listing, do so now… the logo, descriptions and categories are replicated for all cloned listings, saving you a LOT of time and effort. All you need to change is the address, postal code and phone number.
THIRD, clone additional locations, as above. If you have more than a dozen locations, contact FoundLocally.com for a shortcut, where can help you upload the locations from an Excel file.
FOURTH, set up additional location-specific contacts, if each location has a manager who should have permission to post news, events jobs and sales/discounts for that location. If you have more than ten locations and store managers, we can help speed this process with an Excel file upload.
FIFTH, post any News announcements, Sales notices, and standard job descriptions to one listing. Go to the "POWER USER: Multiple Listings" option in the "What to Do?" menu in the white stripe. There you can clone/copy these items to all your listings with just a few mouse clicks. This a nice, efficient two-step process form managing the information for many listings.