Get the highest online visibility for your Festivals and Community Events using  FoundLocally.com free listings.
FoundLocally's self-serve toolkit makes it easy for all festivals and community events organizers to provide year-round visibility for event organizations, promote and fill both paid and volunteer positions, and promote their festival's entire schedule. Post not only the festival itself, but all component events, using a "clone' tool to quickly post similar events, and the ability to re-use/update events posted in prior years to save time.
Festivals and community events tend to recur annually, and run on tight fiscal budgets and often with extensive community and volunteer support. FoundLocally can help Festivals and community events in a number of ways, and provides time-saving year-to-year continuity of marketing effort.
Step #1: Add the Organization (the permanent listing)
Step #2: Add the Event (the calendar-based details)
Step #3: Post news, jobs, volunteers, coupons
Make the Most of Your PROFILE
Add an organizational listing to promote your festival on an going basis, to raise year-round awareness, not just the week before the event(s)
Use the Description field to state your key branding message, and NOT SPECIFIC TO THIS YEAR'S DATE. FoundLocally uses the Events tab to post items to our interactive Events Calendar (more about this later), so don't waste words on that here, and don't risk your listing looking out of date right after this year's festival/events

Use the Products/Brands to showcase your key events and activities by name (not by date). Talk about your audience and the types of events & activities, as well as key venues and major perennial sponsors

Use the Environmental field to showcase how you are organizing the festival in a way that is environmentally friendly

Use the Business Hours field to focus on the year-round office hours, or you might state that the office has limited hours other than a month before the festival.
Post All Festival EVENTS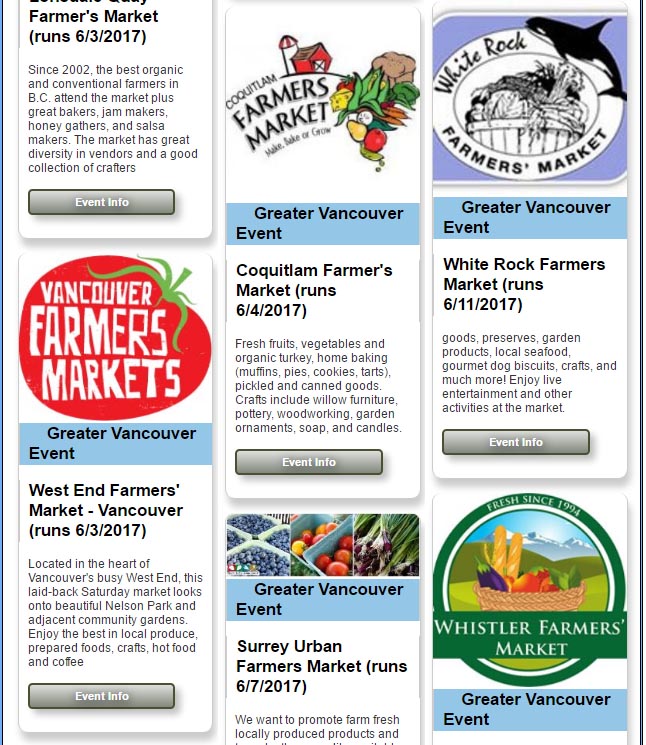 Use the EVENTS tab to post your festival, and any component, pre-festival and post-festival events to FoundLocally's interactive Calendar

Post events as far ahead as you plan, including next year's festival dates, on FoundLocally. You can edit them to update location and other details closer to the event. AT LEAST post the "festival as a whole" on our calendar

Events Descriptions are limited to 250 characters. Sell the "essence" and move visitors to your website where you have more details and can move them to a ticket or event pass sales process (and on your site they are not distracted by other events listed on FoundLocally!)
TIP: Each Events FoundLocally pages can link to your website, a venue's website or a third party (like, say, TicketMaster) to either provide more detailed information, or expedite sale of tickets or festival passes

Post all separate sub-events. You may have a 3 day music festival, but if people can buy separate tickets for day one, day two, and day three, and each has different artists and line-ups, post each day as well as a "sub  event". You can make that day's Description field, dates,and link specific to that day's page on your website (or a ticket /pass order form)

Always include festival name in all events names (to improve both findability and branding during festival)
If you have a LOT of events (>30), which can easily happen with a  a film festival, a multicultural festival, a music festival, or a fringe festival, send us an Excel spreadsheet so we can quickly load all of them. Please contact FoundLocally to discuss the optimal format and data needed

Events are automatically hidden from public view after each event's End Date passes, but they retained in our database, and can either be updated for the next year (just edit the date to be a future date) or purged using the POWER USER tab)

FILM FESTIVALS: Please do not post individual films to the Events tab of your listing. We'll include them in FoundLocally's weekly movie listings. Email the spreadsheet of films, date, times, venues to FoundLocally.com Just post the Opening Gala, Awards & Closing Gala, and any similar "meet & greet" events.
[vc_separator]
[vc_icon type="typicons" icon_typicons="typcn typcn-news" color="custom" size="xl" align="center" custom_color="#dd0000″]
Post NEWS & Announcements
Post announcements  to FoundLocally listings at the same time as it is sent out to other media outlets.
You can post an announcement that tickets are now on sale. The News Announcement is posted & viewable on FoundLocally from that time on…. The Events are displayed in the calendar just at the appropriate time, and whenever people look ahead in the Events Calendar. Increase your  FoundLocally visibility to times significantly before & after the festival dates
Dramatically improve your search engine findability by using important keywords in the news story with your web site and name. In addition they can improve your/your client's creditability as an industry information resource
Announcements stay posted until you take them down. On FoundLocally, news has a long shelf life. FoundLocally news is not thrown out or recycled the next day, like with a newspaper!
Announcements for this year's festival, can be recycled for next year's. Go to the NEWS tab and click Clone to duplicate a specific News item, but update it with the current year's information. Optionally, you can delete last year's news item (typically there no adverse impact, unless you have major pricing changes)
[vc_icon type="entypo" icon_entypo="entypo-icon entypo-icon-users" color="custom" size="xl" align="center" custom_color="#dd0000″]
Multiple CONTACTS May Update Listing(s)
Set up multiple contacts per listing using the CONTACTS tab and "Add New", to add additional staff people or volunteer organizers in your festival, so each can post items to your listing, and update details. Include marketing, volunteer coordinators, and event planners in your organization's Registered Contacts
In a volunteer-driven organization,  update the contacts annually, to ensure the responsibility for updating FoundLocally is passed on. Be sure to delete contacts that have left your organization (you must always have at least one contact!). If any e-mail addresses change, be sure to update your Registered Contacts details (if not, your festival listing may get deleted)
[vc_icon type="entypo" icon_entypo="entypo-icon entypo-icon-user-add" color="custom" size="xl" align="center" custom_color="#dd0000″]
Post JOBS to fill staffing needs
You can use the JOBS tab (and "Add New") to post recruitments for either paid or volunteer staff.
Volunteer positions are noted by choosing "Volunteer" from the "Type" pop-down list
Currently openings for should have the "Active" option checked. After positions are filled and/or after the festival is over, all positions should have the "Inactive" option checked.
DO NOT DELETE positions at the end of the festival, those postings can be re-used in future years, simply by checking the  "Active" status, and updating the Posting Information details 7 dates.
[vc_icon icon_fontawesome="fa fa-shopping-basket" color="custom" size="xl" align="center" custom_color="#dd0000″]
Post SAVINGS to promote discounts
Use the SAVINGS tab to post sales, coupons, or discounts. Typical examples for festivals are discounts for week/weekend passes instead of daily passes, family discounts, busload discounts for groups and tours.
Add your Festival/Event to FoundLocally.com
Don't forget to also post any News, Events, Jobs, and Savings to promote all aspects of your organization and operations, (using the respective tabs in your listing).