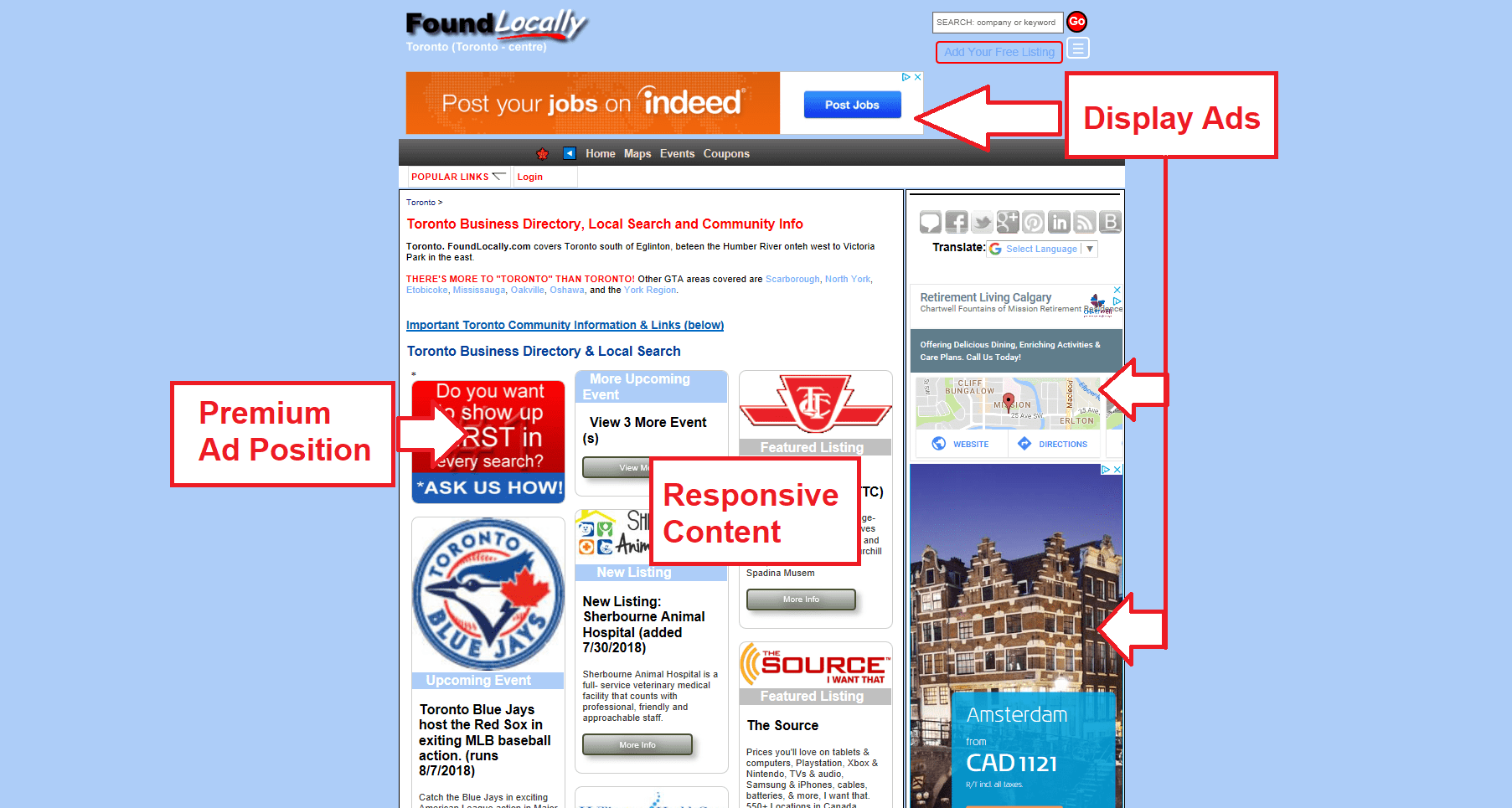 In 2015, we switched to a new Responsive Design,  and over 2016 we integrated a more graphic "Pinterest Style"  to listings of businesses, news, and other content.  This allowed us to feature more images relating to website articles and features, but also allowed businesses to display store & product photos s (or a logo) more prominently around the web site and in user-driven Search Results.
We have been asked, since DAY ONE, "how can my business guarantee we show up first in searches?"
Our business provides free listings for LOCAL BUSINESSES— along with free categories (unlike those "yellow guys"), free logo, free website link, free news announcements, free coupons, sales, or flyers,  free jobs postings, and free events promotion… and the results displayed are either content driven, or filtered based on user-specified search criteria.
Step One: Raise your Profile (Free!)
Local Businesses can improve the quality of their FoundLocally listings by doing three things:
Include a web link that visitors can go to for more information (these listings automatically are listed above those missing a web link)
Upload a photo, image, or  logo. A logo is good for "branding" but a photo is more personal, and can be updated more frequently
 Complete the text fields for About Us ( for your business description, benefits statement, or "elevator pitch") , Products / Brands (for keyword rich search results), and Environmental (to better target "social conscious" consumers) with 250 characters each (including spaces and commas). Our keyword search scans the  business Name fields as well as these three fields (how else can you expect to find a sushi restaurant?)
That's what businesses can do for FREE!
You can also post Jobs (or volunteer opportunities), News announcements or New releases,  post Coupons  (sales, discounts, coupons, flyers), and post Events that your audience can participate in (things they can DO, not stuff they can buy, for example "Bay Days" is not considered an Event).
Step Two: Show Your Profile in more places!
First of all, add your listing for EVERY LOCATION. It's not one per website, but one per physical location.
See https://marketing.foundlocally.com/chains/ for tips
For organizations who want their FoundLocally.com listings created OPTIMALLY, we can do that FOR YOU!
For those who's locations are IDENTICAL (clones) … like restaurant or retail chains

$1 per location

For those who's locations are UNIQUE (different descriptions & photos) … like apartment buildings or hotels/motels $2 per location
Our Local Search experts & web marketing staff are Canadian-based and locally-knowledgable (NOTHING is off-shored with us), and ensure the listings are in the optimal directory & location AND with all appropriate categories, based on  your instructions and/or the individual web pages of the property. We know how our users search and how they make their short-listing decisions.
For the UNIQUE listing, we will also grab a specific image for that property from that property's webpage in your website… Less for you to do. Less  hassle. Done right. Done optimally.
Send us the Excel spreadsheet with your location data, and we'll confirm timing and execution, and send you an invoice
Non-local businesses or national chains, or those who want to raise their profile had TWO options:
Google AdWords or
Fuel Digital Media's display ads (the banners and boxes)
The display ads were pricier and typically only for larger national organizations working through ad agencies, the Google ads are  more targeted and can be bought in much smaller increments. The value of these ads are based on a real-time space auction to  ensure the highest value (based on bids + click-through history) for both Google and the publisher
Step Three: FIRST IN EVERY SEARCH!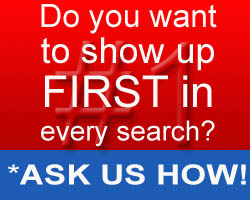 Our Premium Ads are displayed FIRST IN EVERY SEARCH! This will ensure your ad unit (consistent with our "Pinterest Style" content), will display the winning bidder FIRST IN A SECTION of the local site, ahead of all content, business listings, and search results.  These Premium Ads are bid for a monthly duration for a section or a specific city.
You have the choice of repeating your business listing (easiest) or providing entirely new creative in JPG, GIF on PNG (and updated as often as you like over the one month period).
The top bidder pays not their maximum bid, but only $1 more than the next highest bidder. if there is a "TIE, " then the oldest bid at the highest price wins.
NOTE: The details below are still in development, but will be available soon.
How to Create your Premium Ad
Start by using the red What To Do? menu (in the white stripe) and selecting  Manage PREMUM ADS. Or you can go to Manage my Listings where your business listings are displayed (when you have more than one listing).
There you can click Add New to create a new Premium Ad, or Update to review and update an existing Premium Ad bid.
Premium Ads – the Bidding Process
Select your City and then the Segment for the ad
 Once you've mad this selection, you can see:
a) what the Traffic is (current month projected, and prior month actual) and the rough valuation at different CPM( cost per thousand) ad rates
b) how many other Bids exist for your section, and what are the top three bids
Set your MAXIMUM bid (which you can raise or lower any time before the bid deadline). The MINIMUM BID we accept $50 or greater (we'll just show are ad for the Premium Ads until then)
Set your bid Expiry Date (the default is "let it ride" for a year). If you are a seasonal business, you may expire your bid at the end of your season. For a ski hill, this may be February, for a golf course it may be August
It's an Ad Auction!
Like an auction, the highest bid wins. Your maximum bid indicates your intent. For each upcoming month, but the price paid for each Premium Ad is your next competitor +$1 (and if you fail to pre-pay in the alotted time, the second place bidder pays the third place bid +$1).
UNLESS others bid $1 under your maximum bid, you never pay your maximum bid
Your Premium Ads Bid Management screen always shows YOUR BID and the TOP THREE BIDS, so you know how you sit, without  clicking all over the place. You only need to click Update if you want to change your Maximum Bid to ensure you are  to Top Bidder.
TIP: Doing this at the LAST MINUTE can ensure you are the top bidder, but IS RISKY if others are doing so for the same city-segment at the same time.
Premium Ad bids for the NEXT MONTH will be evaluated on the 21st of each month (at 4pm Mountain/6pm Eastern) an the winning bidder will be sent a payment request/approval.
If payment has not been confirmed BY PAYPAL in 48 hours, the "win" automatically goes to second place (at the third place bid +$1), and so on.
Minimum Monthly Bid
We have set the minimum bids at $50 per city-segment. you can choose to bid the minimum bid, but if somebody else has doe so, you'll need to bid AT LEAST $1 higher. Until somebody bids at least the $50 minimum, we are satisfied with displaying the placeholder promotion for Premium Ads. A lower amount is not worth the paperwork, so don't even ask!
Premium Ads – the Creative Process
After bidding on a segment (steps 1-4 above), you need to create your ad, which has four main components:
a) the Image should have as few words as possible (no more thn 6 is a rule-of-thumb for billboards), and fit inside 250 x 250 pixels image of JPEG, PNG, or GIF
b) a Headline or title (up to 100 characters). Consider it a short "tease" that ties in with the photo (you can also set its background colour)
c) a Description of the offer or opportunity (up to 250 characters)
d) the Call to Action button description (and its colour and options)
Then you assign the creative to an ad bid (if you have only one segment bid open the Ad Creative (or your first Ad Creative) wil be assigned to your open bid
NOTE: YOU MUST HAVE CREATIVE for a bid for your BID TO COMPETE, as well as the HIGHEST MAXIMUM BID
If you have more than one open bid (ind different segments and/or different cities) and you have more than one Ad Creative, then you can assign creative to an Ad Bid your you can select Ad Creatives from the Ad Bid itself .
Still not convinced?
Three key benefits of FoundLocally's Premium Ads:
REGARDLESS of search parameters, search results, or business listings in editorial pages (in the Pinterest layout)… when there are business listing results, YOU ARE FIRST in the the city-segment you have successfully bid on.
Its "above the fold" and RIGHT IN THE CONTENT or at the start f Search Results!  It's not above the navigation, or to the right of, or below the content.
Mix creative over the month… CHANGE photos/images, adjust the headline, change the offer, even change he links. If you have Premium Ads in different segments or different cities, you can MIX AND MATCH  any way you want!
For as little as $50 a month, this advertising is SUPREMELY AFFORDABLE!