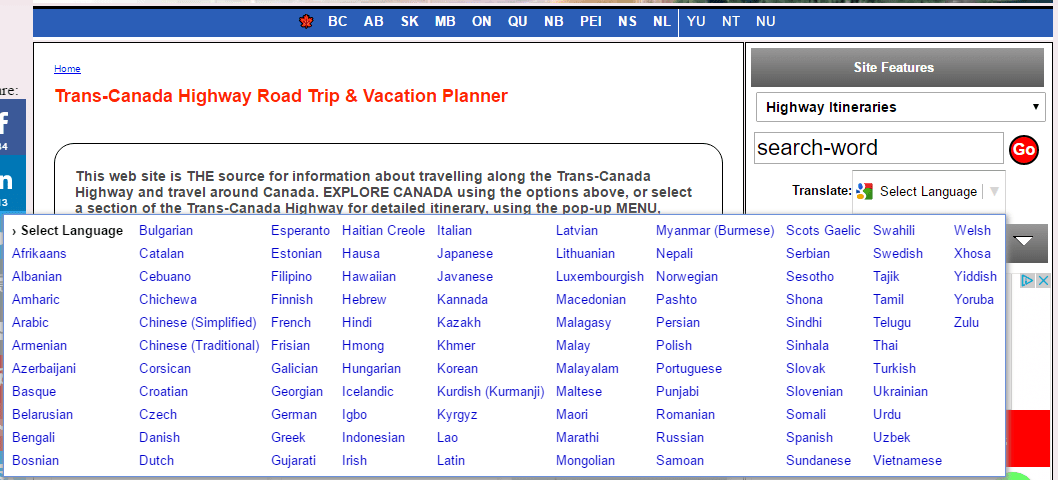 TransCanadaHighway.com offers content in 114 languages
Our sites, using the Google Translate tool are now translated into 114  different languages.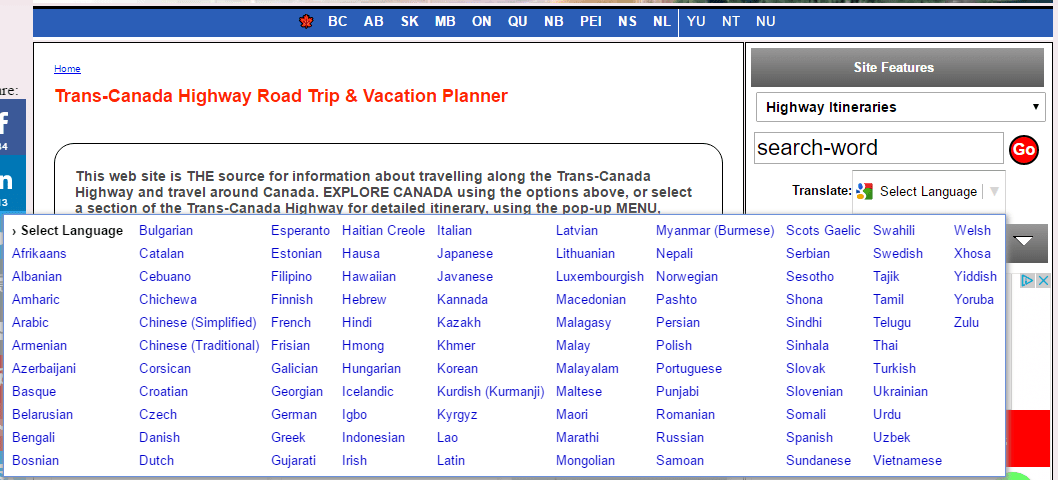 Back in 2012, we fearlessly announced "FoundLocally says Bilingualism is dead in Canada" when we switched from being only in English, and bypassed being bilingual and offered 57 different languages.  Statistics Canada says, that among Canadian residents, there are almost as many non-official language speakers as there are French speakers.  We wanted to make our content accessible in the languages read and spoken by the most common visitors to Canada, including those from France, Germany, Japan, China, and Russia which were the top visiting countries. With 57 languages, Google Translate far exceeded our initial goals!
In 2012, these languages were supported on all FoundLocally websites: Afrikaans, Albanian, Arabic, Azerbaijani, Basque, Bengali, Belarusian, Bulgarian, Catalan, Chinese Simplified, Chinese Traditional, Croatian, Czech, Danish, Dutch, English, Esperanto, Estonian, Filipino, Finnish, French, Galician, Georgian, German, Greek, Gujarati, Haitian Creole, Hebrew, Hindi, Hungarian, Icelandic, Indonesian, Irish, Italian, Japanese, Kannada, Korean, Latin, Latvian, Lithuanian, Macedonian, Malay, Maltese, Norwegian, Persian, Polish, Portuguese, Romanian, Russian, Serbian, Slovak, Slovenian, Spanish, Swahili, Swedish, Tamil, Telugu, Thai, Turkish, Ukrainian, Urdu, Vietnamese, Welsh, and Yiddish. It not only translates, but displays the content in the correct foreign keyboard/fonts.
Language Improvements over the past Five Years
The Google Translate tool has evolved and improved in the five years since, and now offers translation for twice as many languages as it had when it launched.
The innovative programming of Google's Translation capabilities allows the entire site to be offered in languages (and alphabets) used by most people living in or visiting Canada.
New languages now also available include Armenian, Belarusian, Bosnian, Cebuano, Chichiwa, Corsican, Frisian, Hausa, Hawaiian, Hmong, Igbo, Javanese, Kazakh, Khmer, Kurdish (Kurmanji), Kyrgyz, Lao, Luxumbourgish, Malagasy, Malayam, Maori, Marathi, Mongolian, Myanmar (Burmese), Nepali, Pashto, Punjabi, Samoan, Scots Gaelic, Sesotho, Sindhi, Sinhala, Sundanese, Tajik, Uzbek, Xhosa, Yoruba, and Zulu.